Wanderband: Perform live at Wanderland 2014 Contest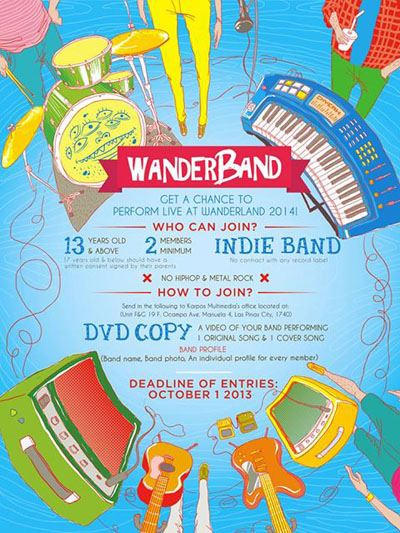 Join in the The Wanderband contest and get a chance to perform live at Wanderland 2014's Music Festival! Plus an additional cash prize awaits for THE WANDERBAND 1st place winner. Hurry Up! submission of entries is from July 20 to October 1, 2013.
CONTEST MECHANICS
WHO CAN JOIN?
Should be 13 years of age and up

*Ages 17 & below should have a written consent signed by their parents or authorized guardians.

Minimum of 2 members
Should be an INDIE band ; NO contract with any record label yet.
Genre: NO HipHop / Metal Rock
HOW TO JOIN?
Send in the following:
(DVD copy) A video of your band performing (1 original song & 1 cover song)
Band profile (band name, band photo, & an individual profile for every member) to Karpos Multimedia office located at (F&G 19 F. Ocampo Ave. Manuela 4, Las Pinas City, 1740)
PRIZES:
1st place: Gets to perform live @ Wanderland 2014 & wins cash prize!
2nd place: Gets to perform live @ Wanderland 2014!
TIMELINE
Deadline of Entries: October 1, 2013
Submission of Entries: July 30-October 1, 2013
Announcement of the Top 20 Finalists: October 5, 2013
Sharing Period: October 5-19, 2013 (Video performances of the Top 20 bands will be uploaded on Facebook. Top 10 bands with the most SHARES move on to the next level.)
Announcement of Top 10 Finalists: October 20, 2013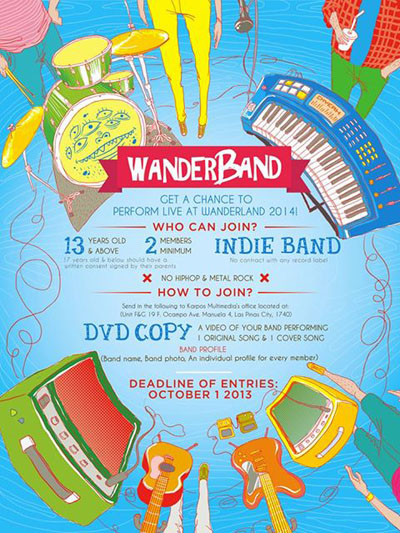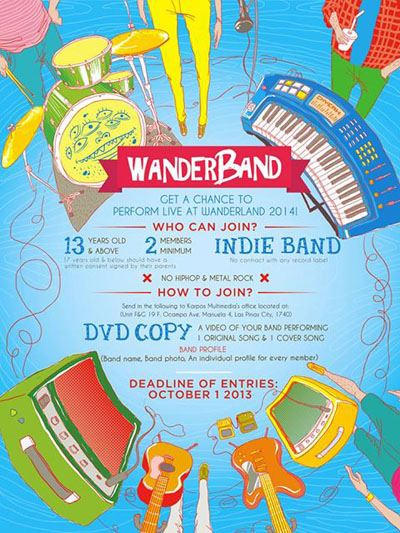 For the venue and date for Final Battle of Wanderland 2014 Contest will be announce soon.
Visit Wanderland Facebook page for more details and latest updates.