TNT GIGASURF50 loaded with 1GB Data plus 300MB FREE YouTube streaming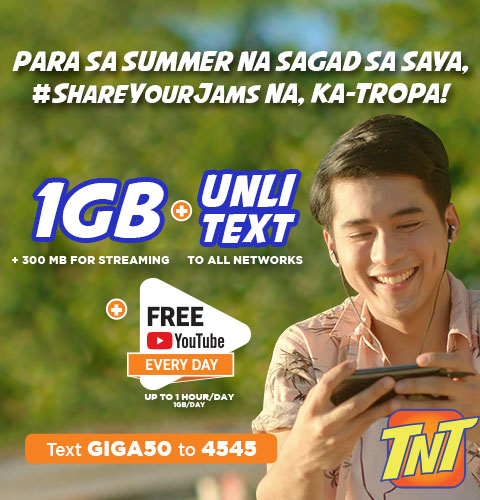 Enjoy your daily YouTube streaming in TNT GIGASURF50 promo which now loaded with 1GB Data and FREE 300MB for your YouTube streaming. You can also enjoy the unlimited text to all networks good for 3 days for P50. You can avail this by texting GIGA50 send it to 4545. See details below.
How to register for TNT GIGASURF50
To register, GIGA50 send to 4545
Validity: 3 Days
Price: Php 50
Loaded with:
1GB Data + 300MB for Youtube streaming
Unlimited text to all networks
The good news for this promo is that you can also share data, all you need to do
text PASADATA <space> 11-digit TNT number <space> <amount in MB> MB then send to 808
Sample:
PASADATA 09120123456 200MB, then send to 808.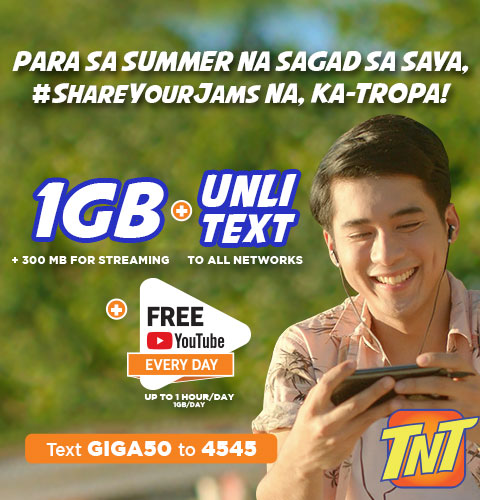 TNT GIGASURF50 promo runs until December 31, 2018. There's no P1.00 maintaining balance is needed in availing this promo. If want to learn more about this GIGASURF promos you can also visit www.tntph.com for full details and may also visit us on our FB page UnliPromo (fb.com/unlipromo) for the latest promos and updates.  Per DTI-FTEB Permit No. 7007. Series of 2018