THE MEGABRANDS SALE 2016 happens at Megatrade Hall
Metro Creative Themes Inc (MCTI) will stage its last quarter The Megabrands Sale 2016 at Megatrade Halls 1 & 2 of SM Megamall on September 30 to October 02, 2016 from 10am – 9pm. Shoppers can take advantage of the big price roll downs on great selections of shoes, bags, men's and ladies fashion, sporting goods and accessories, personal care, and other specialty items.  The event caters to the market looking for great deals before the onset of the holiday's season.
Shoppers will enjoy up to 70% discounts from participating brands like Adidas, Reebok, Hush Puppies & Sebago, Levis & Dockers, RRJ, MR. Lee, Sperry, Skechers, Ducks Unltd, Caselogic and many more!
RCBC Bankard, the bank partner of MCTI for this event, shall treat its credit cardholders with 0% interest for up to 12 months.  Special giveaways and freebieswill also be given for those who will sign up for the credit card during the event.
The event is free admission to the public and all major credit cards are accepted. As usual, admission is free and all major credit cards are accepted.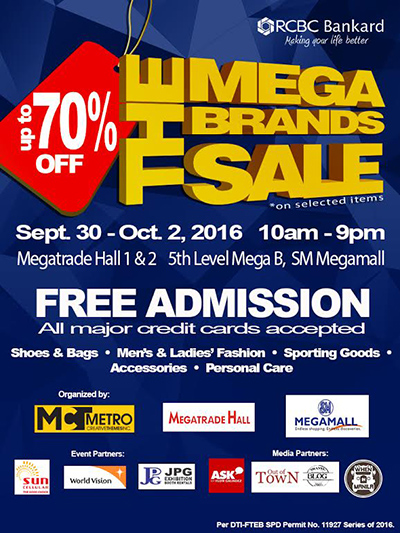 This event is organized by MCT Events Management in partnership with RCBCBankard: Making Your Life Better! The event is in partnership with UnliPromo.com, Sun Cellular, World Vision, WhenInManila.com, OutofTownBlog, Ask by Flow Galindez and Divisoria Guide.
You can also visit UnliPromo Facebook page (www.facebook.com/UnliPromo) for the latest promos, sales and updates.