SMART Prepaid All In 99 Promo with Unlimited Facebook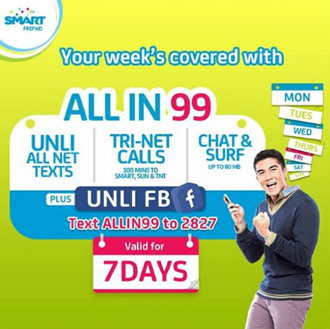 Get non-stop connection 24/7. Smart Communications offers SMART Prepaid All In 99 Promo where you can enjoy Unlimited Text to ALL networks, 100 minutes of Calls to Smart/Talk 'N Text/Sun and 80MB surfing data for only Php 99, valid for 7 days. Promo not just includes unlimited texting, consumable calls and internet surfing, you also get FREE Unlimited Facebook surfing that lets enjoy unlimited Facebook access on your mobile internet browser for one (1) week. There's more reason to stay in touch with your loved ones and keep posted with the latest happenings on your favorite social networking site. All you need to do is simply load up and text Allin99 to 2827.
If you want to register to this promo, see further details below on how to subscribe to SMART Prepaid All In 99 Promo :
How to register for SMART Prepaid All In 99
Just text Allin99 and send to 2827
Validity: 7 Days
Price: Php 99
Loaded with:
Unlimited SMS to All networks
100 minutes of Tri-Net Calls to Smart, Sun and TNT
Chat and surf for up to 80 MB
Plus Unlimited FB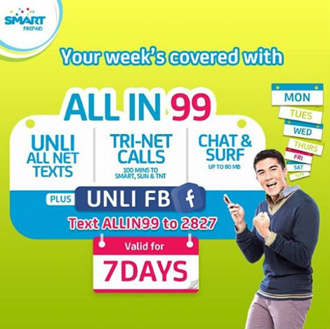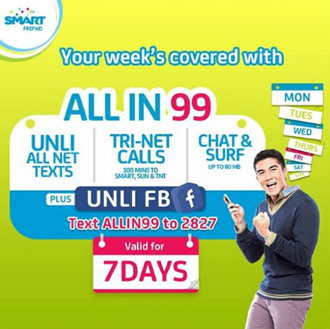 Visit us again if you want to learn more other SMART Unlimited Text, SMART Unlimited FB surfing and other latest Smart Prepaid Promos. You can also check Smart Communications Facebook page for the latest updates.