TM UNLIALLNET10 1-Day Unlimited Text Promo
Ka-Republika subscribers! Looking for an affordable unlitext for 1 day? Load it up with TM UNLIALLNET10 1-Day Unlimited Text Promo! For just Php 10, enjoy sending unlimited texts to your family, Ka-Republika and friends in Globe, Smart, Sun, Talk N' Text and TM valid for 1 day. There's no need for maintaining balance to use the UNLIALLNET10.
Register now and stay connected with your loved ones. See below on how to register to TM UNLI ALLNET10 1-Day Unlimited Text Promo :
How to register for TM UNLI ALLNET Text 10
To register, UA10 send to 8888 or Dial *143# menu.
Validity: 1 Day
Price: Php 10
Enjoy unlimited text to ALL networks for 1 day
NOTE
TM UNLIALLNET10 is not available to EXTEND.
TM UNLIALLNET10 is available nationwide for (TM) subscribers.
Per DTI NCR Permit No. 3763, Series of 2014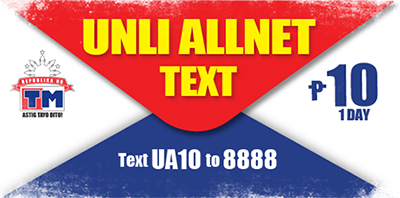 If want to learn more about Touch Mobile (TM) unlimited text promos, you can visit www.talkntext.com.ph or RepublikaTM Communications (www.facebook.com/RepublikaTM) Facebook page for more details and latest updates.