Great Hair Blow Out Promo 2013 – Win Great Prizes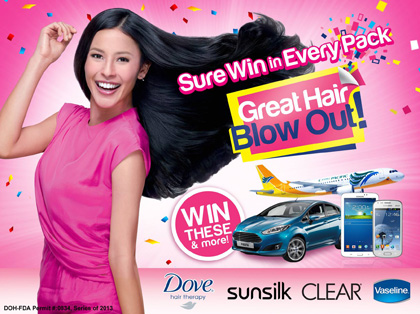 Join Great Hair Blow Out Promo 2013 and get a chance to Win Great Prizes. Simply buy sachets or bottles of any of the participating brands to win. Promo runs from September 27, 2013 to December 31, 2013
HOW TO JOIN:
Buy sachet or bottle variants of any of the participating brands:

SUNSILK
DOVE
VASELINE
CLEAR

Simply look the winning prize inside the pack
PARTICIPATING SKU:
Sunsilk Smooth Manageable 13.5ml sachet
Sunsilk Strong and Long 13.5ml sachet
Clear Woman Complete Soft Care 12ml
Clear Men Cool Sport Menthol 12ml
Dove Straight and Silky 10ml
Dove Intense Repair 10ml
Vaseline Soft and Smooth 15ml
Sunsilk Smooth and Manageable 180ml
Sunsilk Strong and Long 180ml
Dove Intense Repair 180ml
Dove Straight and Silk 180ml
Clear Cool Sport 200ml
Complete Soft Care 200ml
Vaseline Shampoo Soft and Shiny 275ml
IMPORTANT NOTES:
The Great Hair Blow Out logo appears on the pack
At least 70% of the pack is intact
Text inside is intact and readable
Should two fully-worded prizes appear on one sachet wrapper, consumer is allowed to pick only one prize for redemption.
Sachets that are received with one to two letters of the print inside covered by the seal will be accepted for redemption
Great Hair Blowout stickers should be attached to bottles and should be intact
PRIZES
MAJOR PRIZES
Cebu PacifiC Flights

56 Flights
4×4 International Flight
Package inclusive of hotel (packaged per brand)
40 inter-islang flights

Ford
Samsung

25pcs SM-Y210 Galaxy Tab 3 7.0
25pcs phone S7562 Galaxy S Duos Phone
*Prizes are all tax free.
MINOR PRIZES
Smart – 10 Free Tex redeemable per pack via Cebuana Lhuillier
National Bookstore – 5Php off for every Php300 purchase
David's Salon – 15% Discount on haircut / 20% off on hair color
Mc Donald's – Free upsize on any item or meal
*Winners of minor prizes can still win a major prize. If he/she wins more than one, he/she will receive the prize with the higher value.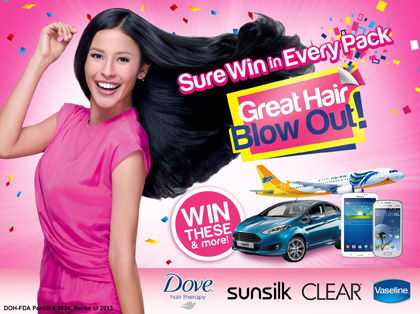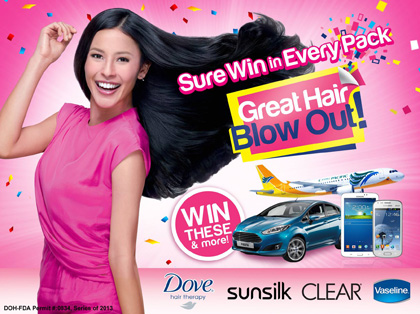 REDEMPTION
Redemption period is from September 27, 2013 to February 28, 2014.
Visit Mommy, Ikaw Na Facebook APP for more details and FB page latest updates.