KFC-NBA Tip-Off Raffle Promo 2013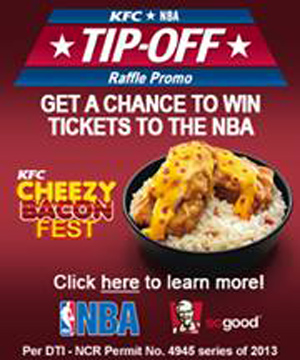 KFC Philippines will give basketball fans the chance to experience the NBA regular season game in the US by participating in the KFC-NBA Tip-Off Promo. Promo runs from Promo period is on September October 1 and ends on October 30, 2013.
HOW TO JOIN:
Participants must buy any one of the KFC Cheezy Bacon Fest products.
Write your full name, address, email, contact number and signature at the back of the receipt.
Drop it in raffle boxes located in any KFC participating branch.
One receipt counts as one raffle entry. Only one Cheezy Bacon product purchase is needed to make the entry valid.
A participant may submit multiple entries.
All raffle entries must be submitted by October 30, 2013 until end of store operations or 12 midnight.
PARTICIPATING KFC CHEEZY BACON FEST PRODUCTS:
Cheezy Bacon Rice bowl
Cheezy Bacon Twister
Cheezy Bacon Chik'n Fillet
Cheezy Bacon Bucket of Fries
Cheezy Bacon Zinger
Cheezy Bacon Pasta Bowl
Cheezy Bacon Mashed Potato
Cheezy Bacon add-on
PRIZES:
GRAND PRIZES
Tickets for 2 to watch an NBA game live in the US. (2 winners)
Includes roundtrip ticket for 2 to US
Hotel accommodation
Meals and transporation
MINOR PRIZES
NBA Skull candy earphones (9 winners)
Signed Spalding Game basketballs (11 winners)
2013 NBA playing cards (100 winners)
ANNOUNCEMENT OF WINNERS
Raffle draw will be done on November 4, 2013. Winners will be also be announced on KFC Philippines' official Twitter account @KFC Philippines, and official Facebook page (www.facebook.com/kfcphilippines) no later than 1 day after the winners have been selected.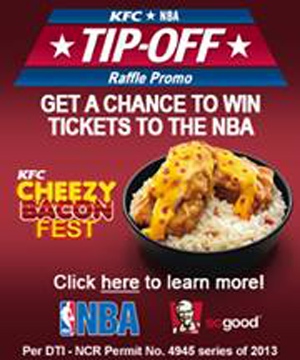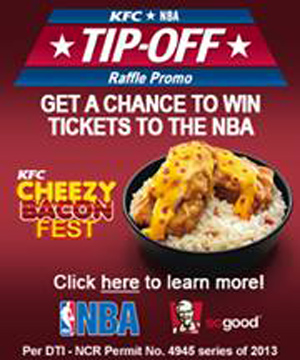 Per DTI permit # 4945. Series of 2013
Visit KFC Philippines Facebook NOTE for full details and KFC FB Page for latest updates.