Globe and Figaro Trip to Boracay for 2 Promo 2013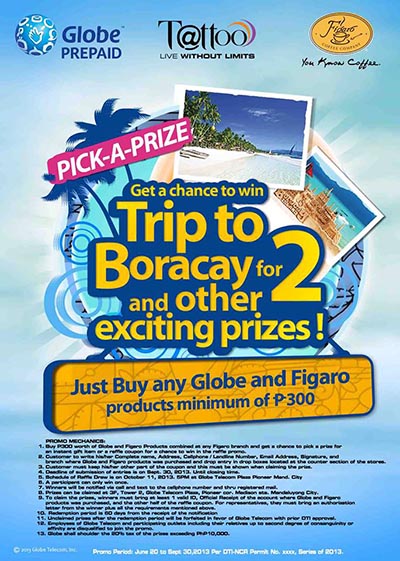 Buy any Figaro and Globe products at any of Figaro stores and get a chance to Win a Trip to Boracay for 2 and other exciting prizes!
MECHANICS:
Buy P300 worth of Globe and Figaro products combined at any Figaro branch and get a chance to pick a prize for an instant gift item or a raffle coupon for a chance to win in the raffle promo.
Customer to write/ fill-in the ff. and drop entry in drop boxes located at the counter section of the stores.

Complete Name:
Address:
Cellphone / Landline Number:
Email Address:
Signature:
Branch (where you buy Globe and Figaro products):

Customer must keep the other side of the coupon and must be shown when claiming the prize.
PRIZES
• Win a Trip to Boracay for 2
Deadline of Submission of Entries:
• September 30, 2013
Raffle Draw Dates:
• When: October 11, 2013, 5PM
• Where: Globe Telecom Plaza Pioneer, Mandaluyong City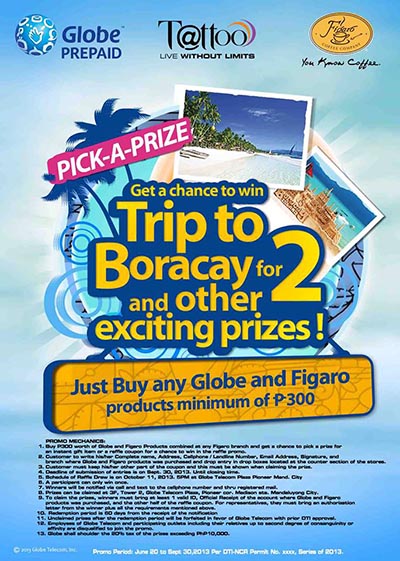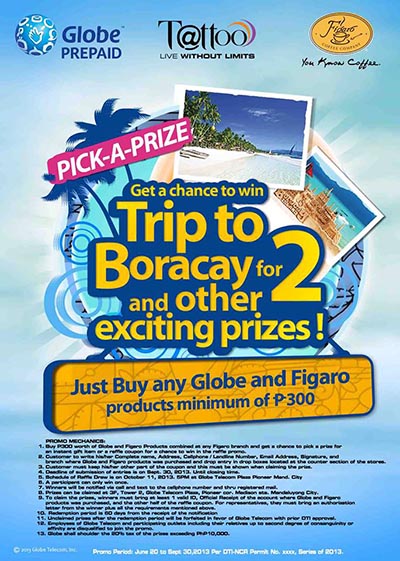 Visit Figaro Coffee Company Facebook page for more details.