Fernbrook Gardens – Heart to Heart a Couple's Day Shoot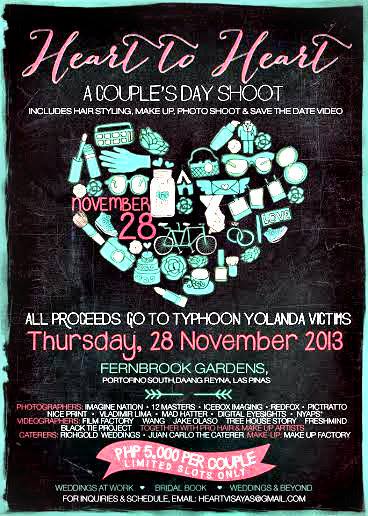 Join hands from all the TOP and Famous Makeup Artists and Photographers, Videographers at Fernbrook Gardens – Heart to Heart a Couple's Day Shoot. Everyone is invited for a Couple's Day Shoot happening at Fernbrook Gardens on November 28, 2013. Its a Charity Event effort and all the proceeds will go to RedCross to help the Typhoon Yolanda Victims. Open to engaged, married, and dating couples and more!
For only P5,000 you will get these services from top wedding suppliers: 5 photo layouts; 1 Save-The-Date Video; Hair & Makeup; Souvenir Photo — all happening at the picturesque Fernbrook Gardens in Daang Reyna, Las Pinas. A P30,000 value packaged to only P5,000 per couple! 100% of the proceeds will be donated to Red Cross. Not a single centavo will be used to pay for the suppliers or the venue. Praise GOD for generous hearts! First-come-first-served. Book now!
This once-in-a-lifetime deal is happening only on Nov. 28, 2013. Limited to only 40 couples.
The Official Sponsors:
Venue: Fernbrook Gardens
Photographers
Imagine Nation
12 Masters
Icebox Imaging
Redfox
Pictratto
Nice Print Photography
Vladimir Lima
Mad Hatter
Digital Eyesights
Nyaps*
Videographers
Film Factory
Wang
Jake Olaso
Tree House Story
Freshmind
Black Tie Project
Makeup & Hair Stylist
Caterers
Richgold Weddings
Juan Carlo The Caterer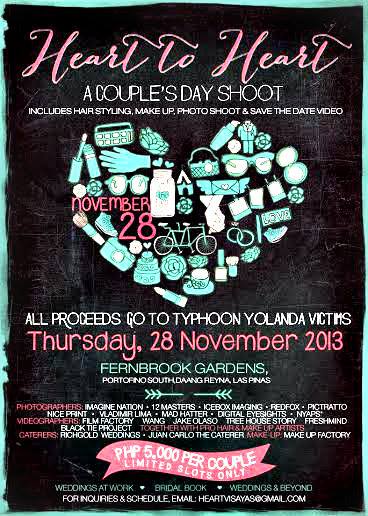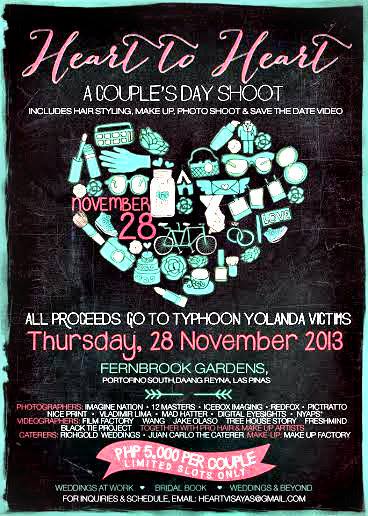 Email heartvisayas@gmail.com or call 0922-811-4653 or 340-4653 for more details.
Visit Fernbrook Gardens Facebook page for more details and latest updates.