Yellow Cab The Portal Branch – Free Yellow Cab Pizza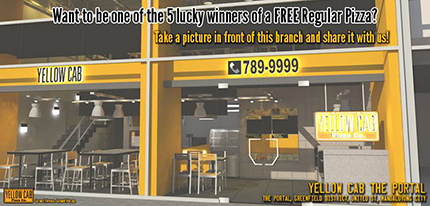 Let's start the week off by letting you guys know that you can be a lucky winner of a FREE Yellow Cab Pizza! Join the Great Times @ Yellow Cab The Portal activity!
Yellow Cab branch at The Portal will be opening very soon! And to celebrate Great Times, Great Pizza even before the branch opens! Join the Yellow Cab Great Times @ Yellow Cab The Portal activity and get the chance to be one of the 5 lucky winners to win a FREE Regular Pizza!
Mechanics:
Visit Yellow Cab The Portal branch and take a picture in front of it (even if the branch is not yet opened).
Post your photos as a COMMENT under

Yellow Cab

Facebook post.
Give a short caption with your photo.
You may post as many times as you want, given that it is a different photo with a different caption. 1 post = 1 entry.
Deadline of entries is at 6:00pm on October 15, 2013. You have ONE WEEK!
Winners will be chosen via electronic raffle.
Winners will be announced at 12:00pm on October 16, 2013 on our Facebook Page.
Winners should send their Full Name and Contact Number via Private Message on Yellow Cab Facebook Page on October 16, 2013.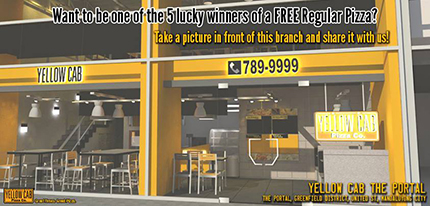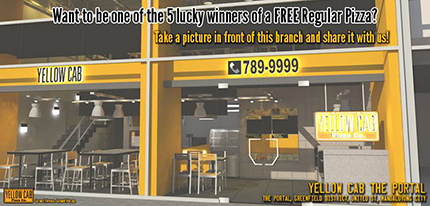 Prizes will be redeemed at The Portal branch, for dine-in or take-out only.
Visit Yellow Cab Pizza Co. Facebook page for more details and latest updates