Promote Good Governance! Be an Engaged Citizen! MTV Video Contest 2013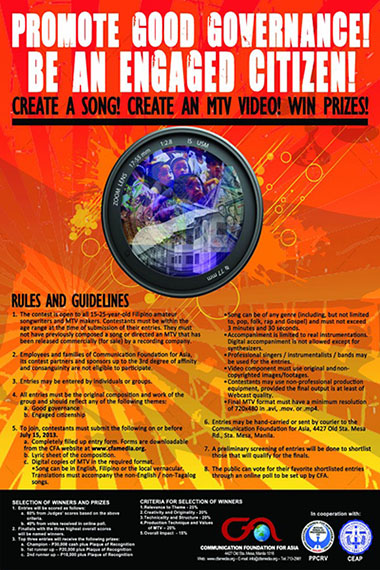 Promote Good Governance! Be an Engaged Citizen! MTV Video Contest 2013
RULES AND GUIDELINES
1. The contest is open to all 15-25-year-old Filipino amateur songwriters and MTV makers. Contestants must be within the age range at the time of submission of their entries. They must not have previously produced a song or MTV that has been released commercially (for sale) by a recording company.
2. Employees and families of Communication Foundation for Asia, its contest partners and sponsors up to the 3rd degree of affinity and consanguinity are not eligible to participate.
3. Entries may be entered by individuals or groups.
4. All entries must be the original composition and work of the group and should reflect any of the following themes:
a. Good governance
b. Engaged citizenship
5. To join, contestants must submit the following on or before July 15, 2013.
a. Completely filled up entry form. Forms are downloadable from the CFA website at www.cfamedia.org.
b. Lyric sheet of the composition.
c. Digital copies of MTV in the required format.
 Song can be in English, Filipino or the local vernacular. Translations must accompany the non-English / non-Tagalog songs.
Song can be of any genre (including, but not limited to pop, folk, rap and Gospel) and must not exceed 3 minutes and 30 seconds.
Accompaniment is limited to real instrumentations. Digital accompaniment is not allowed except for synthesizers.
Professional singers / instrumentalists / bands may be used for the entries.
Video component must use original and non-copyrighted images/footages.
Contestants may use non-professional production equipment, provided the final output is at least of Webcast quality.
Final MTV format must have a minimum resolution of 720×480 in .avi, .mov. or .mp4.
6. Entries may be hand carried or sent by courier to the Communication Foundation for Asia, 4427 Old Sta. Mesa Rd., Sta. Mesa, Manila.
7. A preliminary screening of entries will be done to shortlist those that will qualify for the finals.
8. The public can vote for their favorite shortlisted entries through an online poll to be set up by CFA.
CRITERIA FOR SELECTION OF WINNERS
Relevance to Theme – 25%
Creativity and Originality – 20%
Technicality and Structure – 20%
Production Technique and Values of MTV – 20%
Overall Impact – 15%
SELECTION OF WINNERS AND PRIZES
1. Entries will be scored as follows:
a. 60% from Judges' scores based on the above criteria.
b. 40% from votes received in online poll.
2. Finalists with the three highest overall scores will be named winners.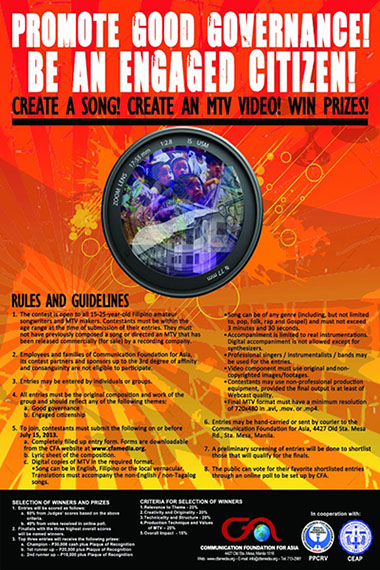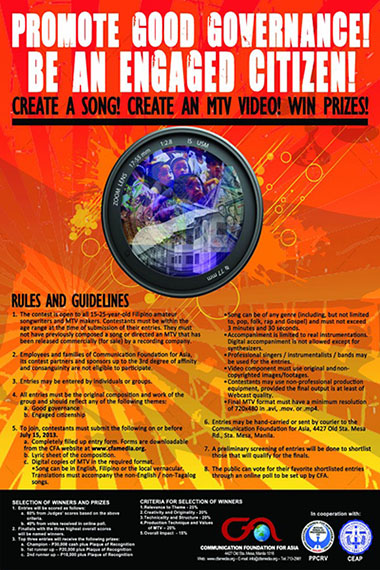 3. Top three entries will receive the following prizes:
a. Champion – P30,000 cash plus Plaque of Recognition
b. 1st runner up – P20,000 plus Plaque of Recognition
c. 2nd runner up – P10,000 plus Plaque of Recognition
Visit CFA Magazine Facebook page for more details and latest updates.