Portofino Photo Contest 2013 Mechanics and Prizes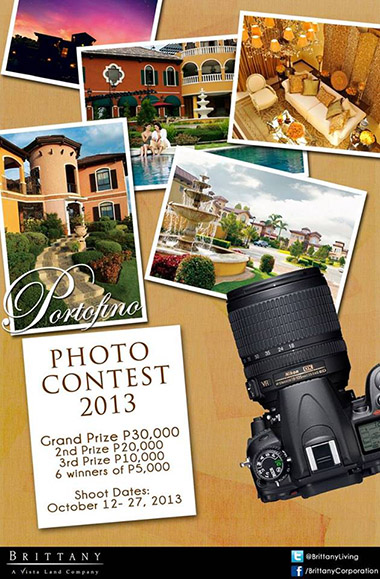 Invite your friends and Join the Portofino Photo Contest 2013 and Win Cash Prizes! Open for all non-professional digital photographers and there is no registration fee required. The actual competition dates start on October 12, 2013 until October 27, 2013. The winners will be announced on the November 24, 2013.
REGISTRATION
Send an e-mail expressing your interest to join to Jessica Dogaojo at jessica_dogaojo@brittany.com.ph before your scheduled day of shoot.
THEME
The contest's theme is 'Celebrating Luxury Living at its Finest'; hence, the participants shall take photos in line with their interpretation of the theme.
GUIDELINES:
1. The participants may visit and take photos in the following sites:
Monte di Portofino (Portofino Heights)*
Showcase Area – Renoir and Alessandro Model Houses (Portofino Heights)
Michelangelo Model House (Portofino South)
Parco di Portofino (Portofino South)*
Evia Lifestyle Center*
Fernbrook*
Amore Clubhouse*
However, please note that contestants cannot take photos of the homeowners' houses (Participants will be provided with maps for reference).
Also, please be reminded that only exterior shots are allowed for Monte di Portofino, Parco di Portofino, Evia Lifestyle Center, Fernbrook, and Amore Clubhouse.
2. Only photos taken during the contest date and time shall be accepted.
3. Each participant must submit five (5) photos with caption.
4. Entries shall be submitted in two (2) copies using CD or DVD with a JPEG or JPG format of at least 1,600 pixels wide (if the image is horizontal) or 1,600 pixels tall (if the image is vertical) or of 300 dpi resolution.
5. Only minimal editing techniques will be allowed (e.g. cropping, minor burning, dodging and color correction, adjusting curves, levels, brightness, contrast, sharpness and color balance).
6. All entries must be submitted with a signed Release Form (to be given by Portofino Registration Committee on the day of shoot) indicating that the photos become property of Vista Land, which shall have the right to reproduce, exhibit, or publish images for promotional purposes without any financial compensation to the photographer.
CRITERIA OF JUDGING
30% — Concept & Thematic Relevance
25% — Composition
20% — Technical Quality
15% — On-site Votes
10% — Online Votes
100%–Total
PRIZES
1st Place – Php30,000
2nd Place – Php20,000
3rd Place – Php10,000
6 Consolation Prizes – Php5,000 each
Voter's Choice – Php10,000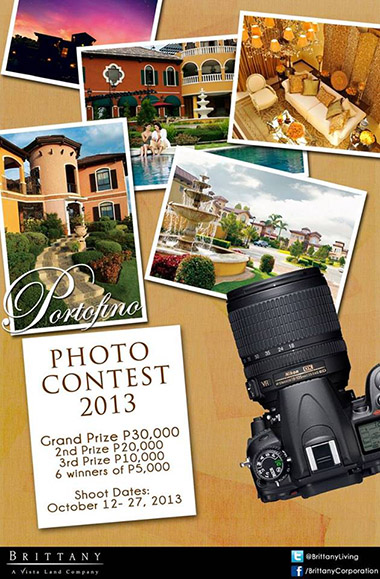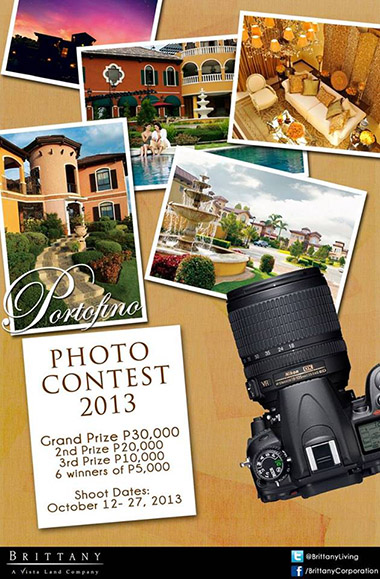 Visit Portofino Photo Contest 2013 Facebook Event page for full mechanic details and guidelines of the said competition. Check the Brittany Corp Facebook page for the latest updates.