Dunkin Donuts Promo – Spend a Day with Derek Ramsay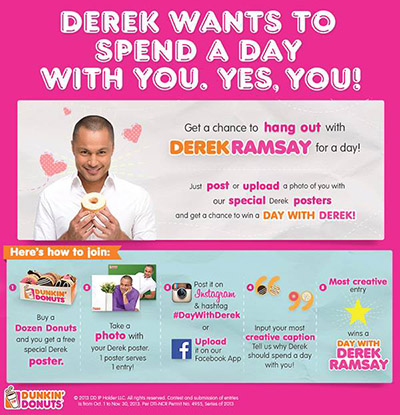 Join the Dunkin Donuts Promo – Spend a Day with Derek Ramsay, simply Grab a dozen Dunkin' Donuts now to get the special Derek poster, have your photo taken with it, upload it here using the hashtag #DAYWITHDEREK – and tell why Derek should hang out with you for a day. You might get the chance to have your wish come true!
HOW TO JOIN
Buy a Dozen Donuts and you get a free special Derek poster. Yes. Derek. For FREE
Who can Join? Whether male or female, as long as you're aged 13 and up!
Take a picture of yourself with poster boy Derek, with a caption on why you should be the one to spend a Day with him as his WING MAN, DATE OR BUDDY.

(Sample: "Date me! I'm a guitarist, and I can rock your world!" or "Let's see who can dish out the best pick-up line.") Go ahead, get creative but keep it clean.

When you're happy with your photo, upload the picture on INSTAGRAM or FACEBOOK with hashtag

#DAYWITHDEREK

If you wan to submit another entry, you have to pose with a different poster design. (Take note, there are 2 special Derek Posters that you can choose from)
Three lucky winners shall be chosen.
Promo period is from October 1 – November 30, 2013.
Per DTI-NCR Permit No. 4955, Series of 2013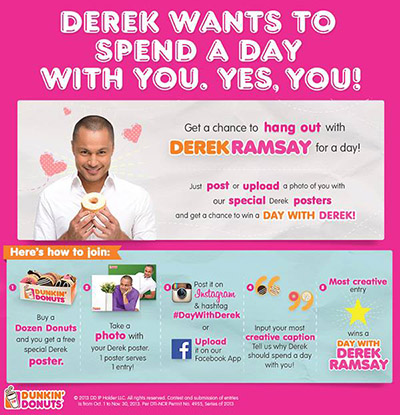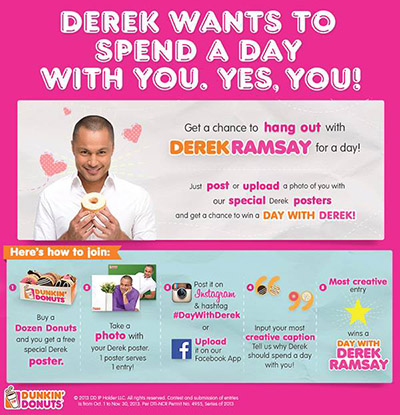 Visit Dunkin' Donuts Facebook page for more details and latest updates