Breeze Sige Sabado Facebook Promo 2014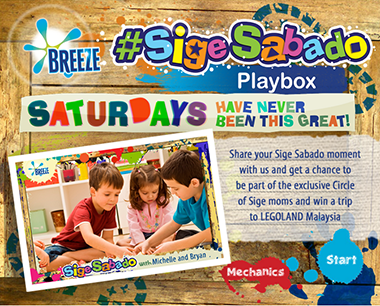 Hi Mom and Dad! Join the Breeze Sige Sabado Facebook Promo and get a chance to be part of the exclusive Circle of Sige Moms and a trip to LEGOLAND Malaysia Resort for 2! Simply Upload and Share your #SigeSabado moments on Breeze Sige Sabado FB App where you can also be one of weekly winners of Breeze giftpacks and Sige Mom Circle membership. Promo runs until May 31, 2014. Join Now!
Breeze Sige Sabado Facebook Promo is open all Mom, Dad and any adult who acts as a guardian at least 18 years old, a Filipino citizen, currently residing at the Philippines. Participants must have Facebook account and contactable via email, in Facebook or mobile/landline.
MECHANICS:
LIKE the Breeze Philippines (

www.facebook.com/BreezePhiliipines

)Facebook fanpage
Visit Breeze Sige Sabado

FB Application Tab

Fill-up the form with the following details:

Name (First Name and Last Name)
Complete Postal Address
Email Address
Contact Number

Complete the Breeze tagline with your child's name. Sige Sabado moment with _________. Name must be between 3 to 15 characters
Create a photo showing your Sige Sabado moment
Add a Filter, Choose a Filter and Upload your photo (File size should not exceed 5mb, jpg, jpeg or png format)
Post your photo on the Breeze Sige Sabado app
Participants are allowed to submit unlimited number of entries for the entire duration of the promo.
CRITERIA OF JUDGING
70% – Creativity. Unique expression of the photo
30% – Brand Choice. This will be based according to the entry's appeal and alignment with Brand values.
GRAND PRIZE
Trip to LEGOLAND Malaysia Resort for two (2). Inclusions are as follows:
Round trip Airfare for 2 Via Cebu Pacific
Transfer (Airport/Hotel/Airport)
3 Days 2 Nights hotel accommodation at LEGOLAND Malaysia Resort (twin room)
Daily Breakfast
2-Day Ticket Entrance to LEGOLAND Waterpark and Themepark
Plus Five Thousand Pesos (P5,000.00) pocket money and Three Thousand Pesos (P3,000.00) meal allowance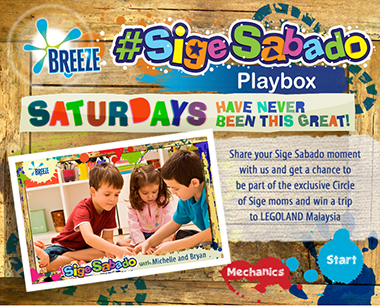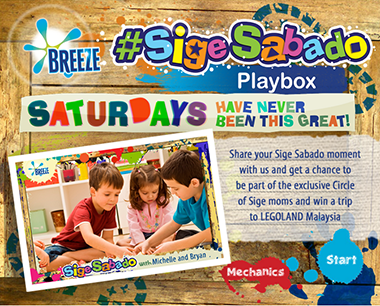 Visit Breeze Philippines Facebook page for more details and latest updates.