Wanderland 2013 – Poster making Contest Mechanics and Prizes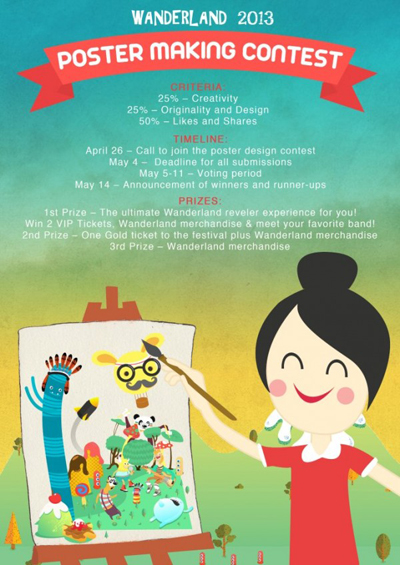 Come and join in the Wanderland 2013 – Poster Making Contest, where you win 2 VIP tickets, exciting Wonderland mechandises and may more. Hurry up! come up with your most creative poster design by May 4, 2013.
Wanderland 2013 – Poster making Contest Mechanics:
1. Create an illustrated poster for Wanderland. Prerequisites for the poster are: inclusion of Karpos logo and official Wanderland logo.
Download the Wanderland files at http://bit.ly/14duyCX
2. Size must be 18×24 inches.
3. Poster must be completely illustrated – either by hand or using computer graphic applications such as Photoshop, Illustrator, Corel, etc.
4. Contestants may submit more than one entry but you can only win once.
5. Contestants must use their real names for their entries to be considered valid.
6. Submit all entries to wanderlandfest@gmail.com by May 4, 22013  11:59 PM with the subject "Poster Illustration Contest."
Entries submitted past the deadline will not be considered. Include the following information:
Full name
Contact number
Facebook URL
Instagram username
Twitter username
7. Karpos will post the shortlisted designs on Facebook.com/Wanderlandfest and Instagram.com/Wanderlandfest.
8. Contestants will have to like, share and tag their entries from Wanderland's FB account and share in all their social media accounts.
9. Voting period is from May 5-May 11, 2013 . Winners will be announced on May 14, 2013.
10. Submission to the contest means that contestants turn over the rights to Wanderland to use the artwork however they see fit. Entries may or may not be exhibited during the festival.
11. Winners will be contacted by email or Facebook on how to claim their prizes.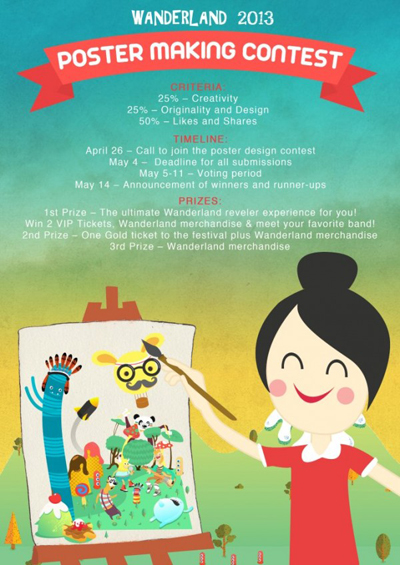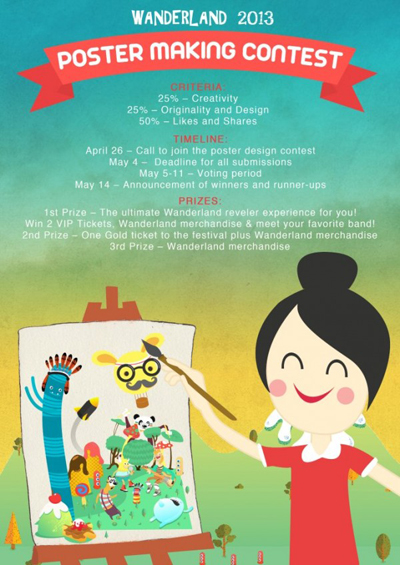 Wanderland 2013 – Poster making Contest Mechanics Prizes:
1st Prize – The ultimate Wanderland reveler experience for you! Win 2 VIP tickets, Wonderland mechandises and meet your favorite band!
2nd Prize – One Gold ticket to the festival plus Wnderland mechandise
3rd Prize – Wanderland merchandise
For inquiries and more details of Wanderland 2013 – Poster Making Contest, please do visit Wanderland Facebook Page and website at www.karposmultimedia.com