Sunsilk Hairkada Adventures Promo Mechanics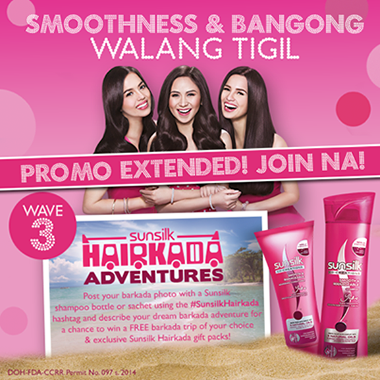 Get a chance to fulfill your dream barkada adventure when you join the Sunsilk Hairkada Adventure promo. You can also win exclusive hairkada gift packs and GCs! Simply take a photo of your Hairkada with a Sunsilk bottle and tell your dream adventure. Don't forget the hashtag #SunsilkHairkada! You can participate either via Facebook, Twitter, Instagram or have your photo taken at any Sunsilk Hairkada Photo booths.
What are you waiting for? Hurry and join now. Promo EXTENDED! Send your entries until June 30, 2014. Check out below Sunsilk Hairkada Adventures Promo Mechanics:
HOW TO JOIN
Facebook: Photo comment your super fun barkada photo with a description of your dream barkada adventure!
Twitter/Instagram: Post your dream barkada adventure together with a picture of your best fun barkada phot with #SunsilkHairkada
Booths: Have your barkada photo taken at any of Sunsil Hairkada Photo Booths.
PARTICIPATING SUNSILK SHAMPOO BOTTLE
Sunsilk Smooth and Manageable Shampoo with Keratin Yogurt Nutri-complex
Sunsilk Strong and Long Shampoo with Active Fruitamin Complex
Sunsilk Expert Perfect Straight Shampoo with Keratin Complex
Sunsilk Damage Reconstruction Shampoo
Sunsilk Nourishing Soft and Shiny Shampoo
Sunsilk Straight and Sway Shampoo with Amino Collagen Complex
Sunsilk Hairfall Solution Shampoo with Soya Vitamin Complex
Sunsilk Soft and Smooth Shampoo with Ceramide Macadamia Complex
DEADLINE OF ENTRIES
1st run: April 11, 2014
2nd run: April 7, 2014
3rd run: May 31, 2014
CRITERIA OF JUDGING
30% Fun factor
30% Creativity
40% Showcase of all-day beautiful hair
100% Total
ANNOUNCEMENT OF WINNERS
1st run: April 14, 2014
2nd run: May 9, 2014
3rd run: June 6, 2014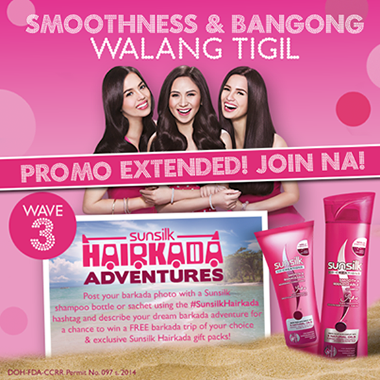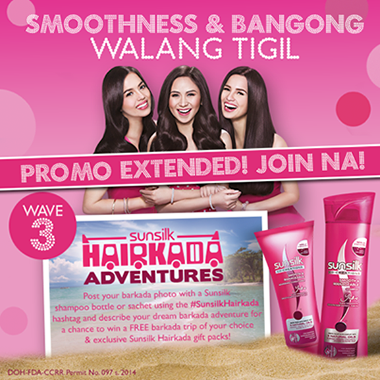 Per DTI-FDA-CCRR Permit No.097 Series of 2014
Visit Sunsilk Hairkada FB Note for more full details and Sunsilk FB Page for latest updates.