Pasayahan Festival Sale 2013 at Pacific Mall Lucena and Metro Lucena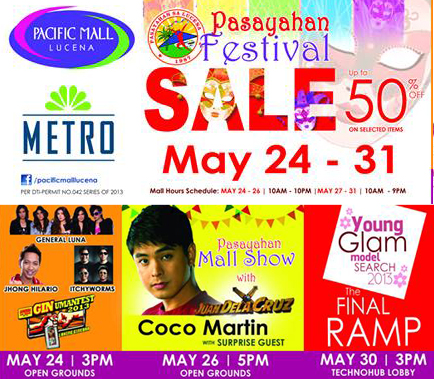 PACIFIC MALL & METRO LUCENA bring you the PASAYAHAN FESTIVAL SALE where you can enjoy Up to 50%OFF!
TAYO NA MAKISAYA AT MAKI-FIESTA simula MAY 24 until MAY 31, 2013.
MAY 24 – COLORFUL COSTUMED TALENTS, CLOWNS, MAGICIAN & FIREDANCERS.
City's Basketball Camp Graduation Day
Highstrings Music School Recital
PASAYAHAN FLORES DE MAYO with Jessie Mendiola & Ejay Falcon @ Gimik Republik (Assembly point)
GINUMAN FEST with Callalily, Itchyworms, General Luna & Jhong Hilario
METRO LUCENA'S HORECA FOOD FIESTA from MAY 24-31, 2013
MAY 25 – Fun Games and Activities c/o SPONSOR Olayapanit Band @ METRO LUCENA main entrance
MAY 26– And it all comes down to the MOST AWAITED EVENT… PASAYAHAN MALL SHOW with JUAN DELA CRUZ "JUAN FUN DAY" with COCO MARTIN plus surprise guest on , 5PM
May 27 – Bartending & Flaring exhibition @ Metro Supermarket
MAY 28 – Be amazed for the second time around FESTIVAL OF LIVE ENTERTAINMENT.
MAY 30 – Also be there to support our TOP 20 FINALIST of YOUNG GLAM MODEL SEARCH 2013 as they take part on our young glam STA. Cruzan followed by "THE FINAL RAMP"
May 31 – SUMMER PREPARATORY GRADUATION DAY
—————————————————————-
Visit Pacific Mall as we enterprise our PASAYAHAN SA LUCENA LIKHA at LIKAS AGRI-TRADE FAIR & EXHIBITION. Showcasing the BEST OF LUCENA & QUEZON PROVINCE form MAY 20 – JUNE 19 @ the 3rd floor (beside NSO) & May 23- May 28 @ the Gimik Republik. Another relevant event organized by the PASAYAHAN SA LUCENA 2013 EXECUTIVE COMMITTEE in cooperation with QUEZON PROVINCIAL TOURISM, DTI-QUEZON & PACIFIC MALL featuring organic products, arts & crafts , gifts, delicacies & more…
Plus take advatage of the DTI- DISKWENTO CARAVAN on MAY 27 @ the gimik republik in cooperation & coordination with the CITY GOVERNMENT OF LUCENA & PACIFIC MALL.
SO, DON'T MISS THESE NON-STOP FESTIVAL LIVE ENTRTAINMENT & TRADE FAIR/ EXHIBITION ONLY HERE Pacific Mall Lucena & Metro Lucena!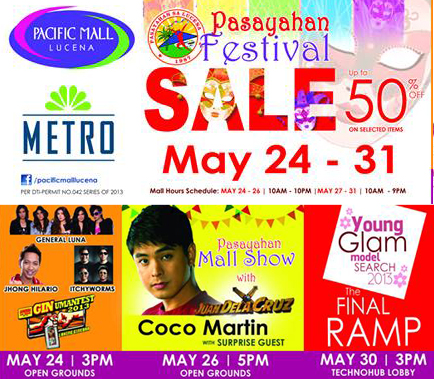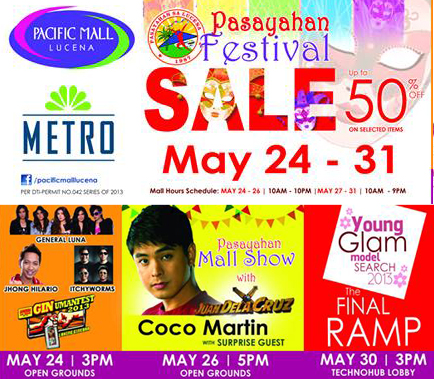 PER DTI QUEZON PERMIT NO. O42 SERIES OF 2013. Visit Pacific Mall Lucena Facebook Page for more details and latest updates.