LG TWEET & WIN Promo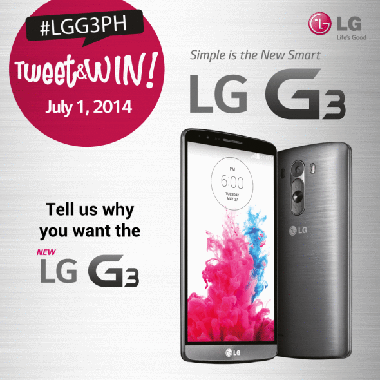 Join LG TWEET & WIN Promo, where LG Mobile Philippines is giving away a brand new LG G3 mobile phone. To join the promo, participants must log-in to their Twitter accounts, FOLLOW @LGPhilippines and TWEET an answer to this question:
I want #LGG3PH simply because ______
Entries should include: #LGG3Ph
MECHANICS:
Sample tweet:
"I want #LGG3PH because I can watch my favorite TV series at optimum quality right in the palm of my hand @LGPhilippines".
TERMS AND CONDITIONS:
Participants can send their entries on July 1, 2014. Entries before and after this period will be considered as invalid.
A participant can send more than 1 entry with different answers to increase chances of winning.
The entry will be picked at random by random.org
The winner of the promo will be announced on July 3 through the LG Mobile Philippines Facebook page www.facebook.com/LGOptimusPH and Twitter & Instagram account @LGPhilippines.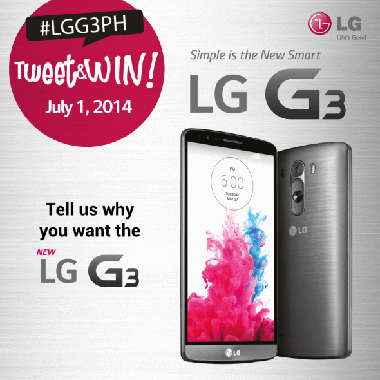 Visit LG Philippines Official Blog site for more details