KFC Sweet Sip Cool Trip Promo – Win Trip to U.S.A. and Watch Selena Gomes Live!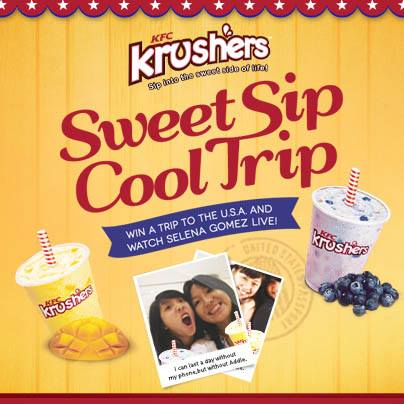 Join the KFC Sweet Sip Cool Trip Promo and get a chance to win an all-expense paid trip for two to Los Angeles, California, USA and tickets to watch Selena Gomez Live on November 6, 2013. Promo runs from September 9, 2013 to October 20, 2013.
MECHANICS:
Simply visit the

KFC Sweet Sip Cool Trip app

on the KFC Philippines Facebook page
Upload a photo of you and your best buddy with Krushers (Max of 2MB, JPEG or PNG) and the app will do the rest.
In 140 characters or less, come up with the sweetest thing you can say about your best buddy.
Once your entry has been submitted, it will be assessed by KFC Philippines. You will receive an email confirmation to show the status of your entry.
CRITERIA:
50% – Overall Impact of the photo and caption (Should show how much you love your barkada)
50% – Originality (Uniqueness of the content)
PRIZE
1 winner will get the chance to watch Selena Gomez with a friend Live on November 6, 2013 at Staples Center, Los Angeles, USA. This is also part of the 4D 3N all-expense.
IMPORTANT NOTES:
A participant may submit more than one entry.
Submission of entries until October 20, 2013 11:59PM.
Announcement of winners will be on October 21, 2013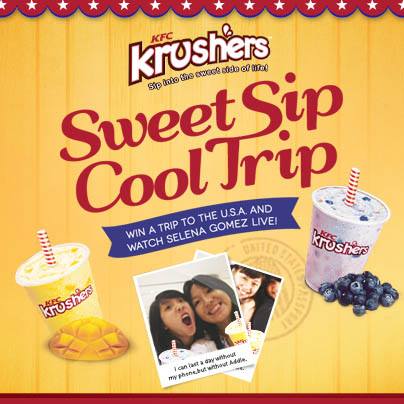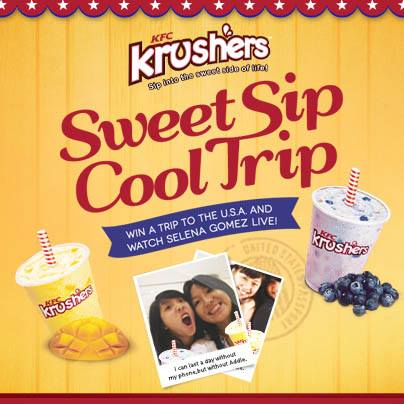 Visit KFC Sweet Sip Cool Trip Facebook App for more details and KFC Philippines FB page for latest updates.