Pepsi Overdrive 100 Cars in 100 Days Raffle Promo – Win Mitsubishi Mirage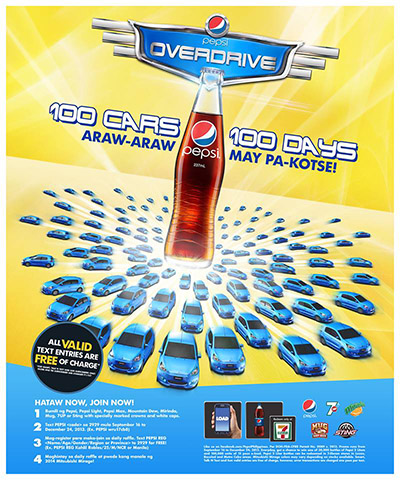 Join the Pepsi Overdrive 100 Cars in 100 Days Raffle 2013 and Get the chance to win 1 of 100 Mitsubishi Mirage for 100 days, plus over P100,000 of worth of exciting prizes! Simply look under the cap of the specially made white crowns of participating PEPSI products and send the eight digit code to 2929. Promo runs from September 16 to December 24, 2013.
HOW TO JOIN:
Buy any participating Pepsi Products with specially marked crowns and white caps
Text PEPSI <codes> to 2929, For eg. PEPSI (space) CODE, send to 2929
All participants sending the code first time will be required to register. To register, participant must send the SMS PEPSI REG <name/age/gender/Region> to 2929 for FREE. One mobile number can be registered only once. For eg. PEPSI REG FrankCruz/23/Male/Region 6. 
Just wait for the daily raffle if you are the lucky winner of 2014 Mitsubishi Mirage!
PARTICIPATING PEPSI PRODUCT (SKU's):
Pepsi Regular
8oz, 12oz, 750mL, 1L, 500mL, 1.25L, 2L, 2L
Pepsi Max
500mL,1.25L, 2L, 2L
Pepsi Light
500mL,1.25L, 2L, 2L
Mirinda
7oz, 12oz, 750mL, 1L, 500mL, 1.25L, 2L, 2L
7-Up
7oz, 12oz, 750mL, 1L, 500mL,1.25L, 2L, 2L
Mug
8oz, 500mL, 1.25L, 2L, 2L
Mountain Dew
7oz, 12oz, 750mL, 1L, 500mL,1.25L, 2L, 2L
Sting Energy Drink Strawberry
240 mL, 330 mL
Sting Energy Drink Power Lime
240 mL, 330 mL
Sting Energy Power Pacq
240 mL, 330 mL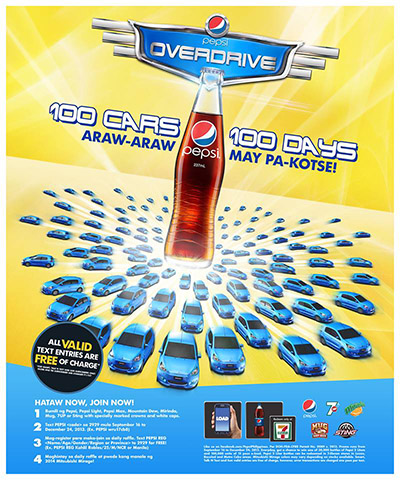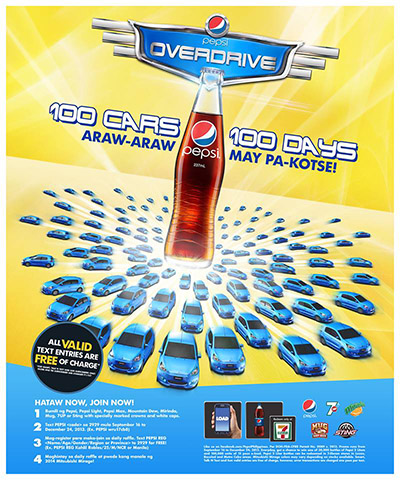 PRIZES:
Grand Prize – Mitsubishi Mirage (2014 Model– 1.2GLS M/T) (Number of prize – 100)
Free 2 liter Pepsi (Number of prizes – 30,000)
Free P15 load (Number of prizes – 100,000)
Visit Pepsi Philippines Facebook page for more details and latest updates