GMA Kapuso Kombo Panalo Promo Mechanics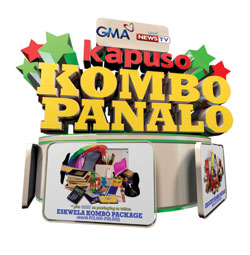 With the huge success of GMA Network's Kapuso Milyonaryo Todo Papremyo, here comes a new promo campaign giving its loyal viewers another chance to bring home big and exciting prizes this September via "Kapuso Kombo Panalo." A promo where you choose from from three available packages that you think that fits you! an eskwela package, an appliance package or a grocery package worth P15,000 to P30,000. Read mechanics below.
HOW TO JOIN:
Collect the proof of purchase (POP) requirements and enclose it in an envelope together with a piece of paper with following details:

Name
Address
Age
Contact number
Signature
and Kombo Prize they want to win.

Write "Kapuso Kombo Panalo", brand of the enclosed POP, and the AREA where the participant lives (NCR, Luzon, Visayas, and Mindanao).
Drop your entries at any drop boxes found at GMA TV and Radio stations nationwide. Entries may be submitted from September 16 to October 13, 2013
Proof of Purchase (POP) Requirements:
Plemex
Nestea
Wilkins Distilled
Maggi
Bingo
Lucky Me Pancit Canton Sweet & Spicy
Monde Special Mamon
WOW Happy Hotdog
Bear Brand Powdered Milk Drink.
PRIZES:
You can choose from three available packages worth P15,000 to P30,000:
Eskwela package
Appliance package
or Grocery package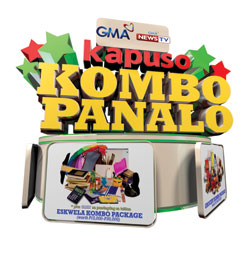 Watch out for the Kapuso Kombo Panalo mechanics plug and solo POP plugs of the sponsors and see Posters at GMA TV and GMA Radio stations for more details. You also inquire call on the following promo hotline at 922-7372 (within Metro Manila) or 1800-10-922-7372 (outside Metro Manila). Visit www.gmanetwork.com for the latest news and updates.