Double Mint Silip to Win It Promo – Win 100 Cool Gadgets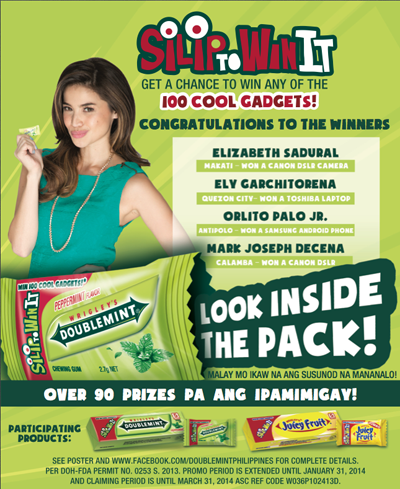 Join the Double Mint Silip to Win It Promo, simply buy Doublemint products and get a chance to win any of the  100 cool gadgets inside the specially marked wrapper! Promo is extended until January 31, 2014 and claiming period is until March 31, 2014.
MECHANICS:
Purchase Doublemint Tabs, Doublemint 5 Sticks, Juicy Fruit Tabs or Juicy Fruit 5 Sticks gum with specially marked "Silip to Win It" Promo Wrappers.
Open promo wrapper by tearing carefully, without throwing away any of its parts and look for the winning message inside the wrapper.
Non-winning packs will have no message inside.
CLAIMING OF PRIZES:
Prizes may be claimed from Soft Sell Activation's office from August 12, 2013 to February 28, 2014 at 112 Shaw Boulevard Pasig City. Provincial winners must notify Wrigley/Soft Sell Activation thru its email address Silip.ToWinIt@wrigley.com or telephone +63 2 4776940 / + 63 943 5062641 before the deadline of February 28, 2014. Soft Sell Activation will be in charge of checking the winning pack and awarding the prize.
NOTE:
Winning wrappers, including all of its parts, must be surrendered to claim the prize. Winning wrappers must contain: Promo Logo in the front panel of the packaging, correct winning message n the foil section inside the wrapper and the special security markings. Printing of the winning message must be valid and authentic and winning wrapper must contain the security markings, and must not be lost, tampered, defaced, mutilated or destroyed beyond fair recognition as this will be grounds for disqualification. Wrigley/Soft Sell Activation reserves the right to conduct verification of any winning wrapper submitted for redemption and reject them if they are found to be invalid or disqualified wrappers. Invalid or fake wrappers without the correct security markings will also be disqualified.
PRIZES:
25 Winners of Toshiba Laptop
25 Winners of Canon DSLR
25 Winners of Samsung Galaxy Android Phone
25 Winners of Samsung Galaxy Tablet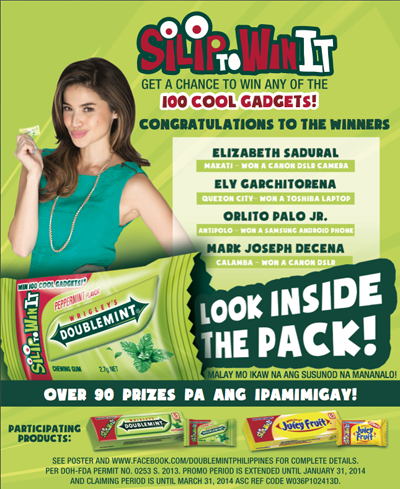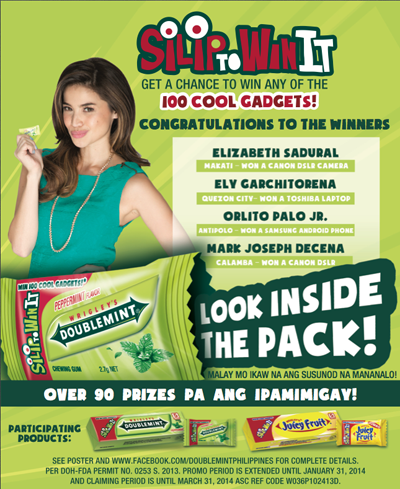 DOH-FDA Permit No. 0253 s.2013.
Visit Doublemint Philippines Facebook APP for more details and and Doublemint FB Page latest updates.