Crumpler End of Season Sale 2014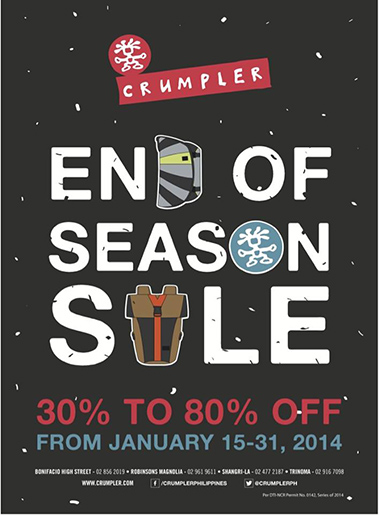 Today's the perfect time to get that Crumpler bag you've been eyeing. Come and Enjoy Crumpler End of Season Sale 2014 where you can get 30% up to 80% OFF on selected items. Sale runs January 15-31, 2014.
Crumpler Philippines Branches:
Shangri-la Plaza
Trinoma
Robinsons Magnolia
Bonifacio High Street
Visit Crumpler Philippines Facebook page for more details and updates.
Did you Know about CRUMPLER? Here's short story about the Evolution of Crumpler Bag.
THE EVOLUTION OF THE CRUMPLER BAG
It's 1992. A young man sits hunched over his grandmother's old sewing machine in a shed in Ballarat, Australia. He's trying to get the machine to sew through a truck tarp, so he can make a bag strong enough to carry a slab of beer home on his bike. Grandma may have helped with the prototype, but it was a parachute-maker who in 1993 really helped Stuart 'Stu' Crumpler on a path to making better bags.
'I went into his shop to buy some material and he looked at the bag I'd made, grabbed it off me and ripped it apart. Then he showed me a better way to stitch it back together.'
Some products are a business idea, but Crumpler bags evolved simply out of Stu's creative desire to make a great bag. 'Here is the design for the first bag,' Stu says, showing a piece of wood with a pattern drawn on it in pen. 'It's called "Mr Pattern"' The bags were cut from a single piece of tough fabric and sewn together on another old sewing machine he bought for $20 at a flea market. Each took quite a while to make and if a mistake was made, well, it would be back to Mr Pattern.
'I used a circular saw to cut out all the linings, but it melted the edges of the fabric. But, because no one could see it, I just sewed over it.' Stu laughs. 'When I couldn't sew through a tough section of a bag, I used a staple gun and hid the staples… There was so much material and off-cuts on the floor when I was making the bags that it all used to hang off my chair like seaweed.'
So, one bag at a time, Stu kept working at his vision. When bike couriers came across his bags and started using them for their deliveries, they offered him feedback about what did and didn't work. Stu ran their ideas across his machine and kept on sewing.
A Melbourne bike messenger company, owned by Dave Roper and Will Miller, ordered some of Stu's first bags for their riders and noticed that they loved them, not just because they were strong, but also because they could open and shut them without taking them off.
They had a brainwave… 'I met Stu in a pub,' Dave remembers, 'and I said, "Hey, do you want to start a bag company?" He said hell yes, and we leased a floor of a building in Flinders Lane so we could have a place to work from. We went to an auction and bought all these sewing and cutting machines…'
And,' Will says, 'we ditched the messenger company.' In those early days, they spent 'about a bazillion hours' cutting strips of Velcro for the straps and pieces of bag lining.
They carried rolls of material to the workshop in Flinders Lane on the back of an old postman's motorbike: 'The rolls were really heavy and so you'd put them on the back of the bike and the thing would just about do a mono, unless I'd lean forward.' Stu says.
Soon the bags were made from water-resistant and stronger materials and the sometimes mismatched colours made them hard to ignore. The locals started noticing these brightly coloured messenger bags and wanted a piece of the action. They followed the trail back to Crumpler's then workshop in Flinders Lane and, with the money from sales, they bought updated equipment and improved materials.
'We have to be at one with the bag,' Stu laughs, showing a prototype for the latest trolley-style travel bag. He sits it next to one of the original messenger bags, faded and creased like a faithful pair of jeans. 'We have to feel really good about them before going into production.' Stu says his original ignorance about how to make bags turned out to be a big advantage. 'Whether for better or worse – and it was often worse – we worked it out for ourselves. We found our own way and that's what makes us different.'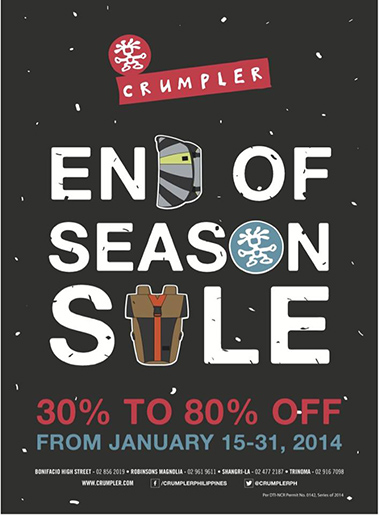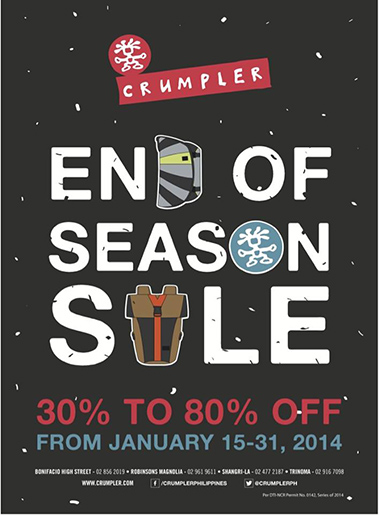 These days the Crumpler range has greatly expanded beyond cycling (with a slab of beer) to include professional camera and photography bags, laptop and technology bags, backpacks, casual bags and luggage. But despite the evolution in style and use that Crumpler bags have undergone, the principles behind 'Mr Pattern' have basically remained the same – simplicity, a willingness to experiment, a big dose of humour – and a determination to make the best bag you can scissor from a single piece of fabric. SOURCE