Castrol Activ ProTEXTado Ka Promo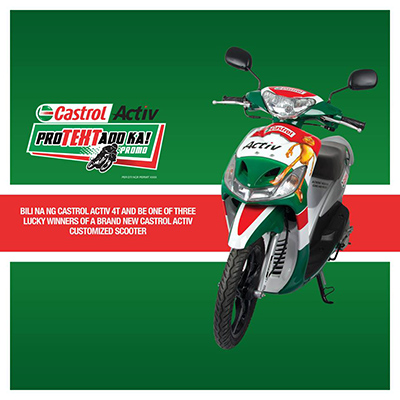 BUY, TEXT, WIN! For a chance to get FREE cellphone load and Castrol premium items, buy Castrol Activ 4T 1L or 800 mL with the ProTEXTado Ka promo sticker code in front, peel off the sticker and follow the instructions. 3 Lucky riders could even win brand new Castrol Customized Scooters! Join Now!
PRIZES:
New Castrol Activ Customized Scooter (Grand Prize)
12 Castrol Activ Helmets
900 Castrol Activ Rain Gears
1 Year Supply of Castrol Activ 4T
Instant Celphone Load
Text CASTROL HELP to 2600 to know more about the promo.
Visit Castrol Riders Philippines Facebook for more promo details and latest updates.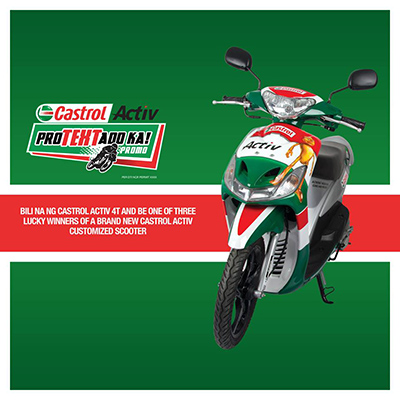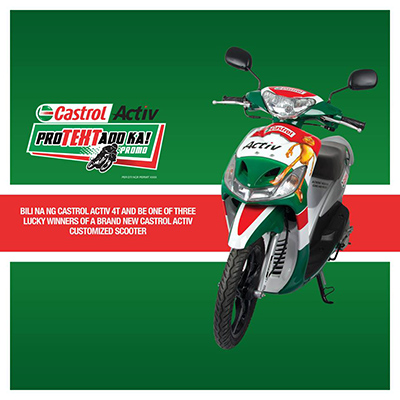 About Castrol Philippines Overview
Castrol is pioneer in the lubricant industry
Has been developing outstanding lubes that have been part of the automobile and industrial revolution
Has been technology leader – expert, for more than 100 years
Has number of "Land Speed" records to its name
Is a brand built through a strong association with competitive aviation events, auto races & speed record races
Has history of strong partnering relationships, with many leading vehicle manufacturers all over the world