Belo Greenbelt Clinic Anniversary Promo 2014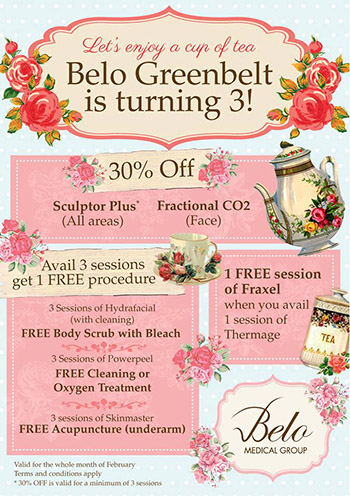 Come and celebrate the Belo Greenbelt Clinic Anniversary Promo 2014 this February, where you can enjoy their 30% discounts and FREE procedures for the whole month of February. Promo runs for the whole month of February
Get 30% Off on Sculptor Plus (all areas) and Fractional CO2 (for face).
Enjoy 1 FREE session of Fraxel when you avail 1 session of Thermage.
Here's more! Get 1 FREE procedure for every 3 session of the following:

FREE Body Scrub with Bleach for every 3 sessions of Hydrafacial (with cleaning)
FREE Cleaning or Oxygen Treatment for every 3 sessions of Powerpeel
FREE Acupuncture (underarm) for every 3 Sessions of Skinmaster.
You can call 819-BELO(2356), for inquiries and for more promo details.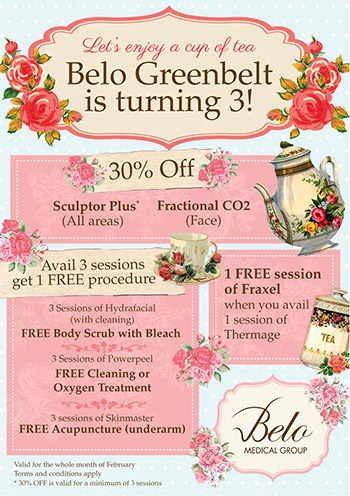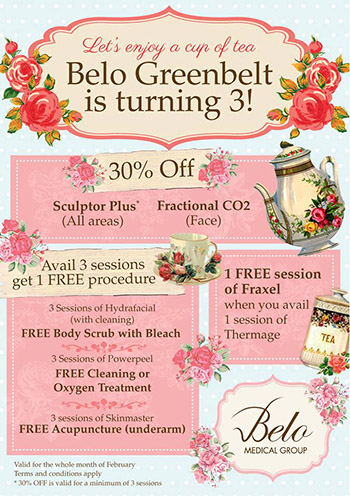 You can also check our UnliPromo FB Page (fb.com/unlipromo) for the latest feeds and more exciting offers.