Avicii Live in Manila 2013 Win FREE Tickets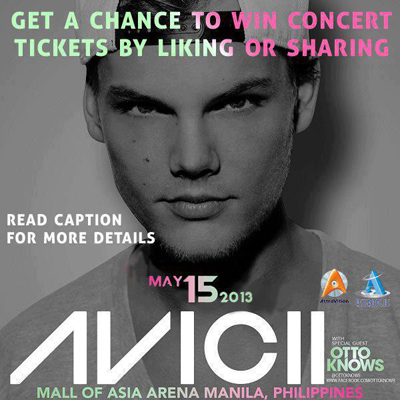 Hey guys Astroplus Promo is Back! Here's your chance to win a (2) pairs of tickets to AVICII Live in Manila! All you need to do is follow this mechanics to win wickets!
Astroplus Avicii Live in Manila 2013 Win FREE Tickets Mechanics:
1. REGISTER FOR THIS PROMO by sending the following details to astropluspromo@gmail.com (email subject should be:Avicii Live in Manila 2013):
YOUR NAME:
YOUR CONTACT NUMBER:
YOUR FACEBOOK URL:
2. Like the pages Astroplus, World Wide Womb and the Avicii Live in Manila event poster.
3. From this post, click on the share button and include the message below. Make sure to share properly (we need to see the 'shared via' on your wall post), tag Astroplus properly on the status and make your posts public! Otherwise, you won't have a chance to win because we won't see your post at all! You MUST include this message on your post:
I want to win a pair of tickets to "Avicii Live in Manila" from Astroplus! Let me hear him perform "(insert your favorite Avicii song here)" live!
Buy your music, movies and gadgets ONLY at ASTROPLUS / ASTROVISION stores nationwide! Giving you the best of the entertainment lifestyle!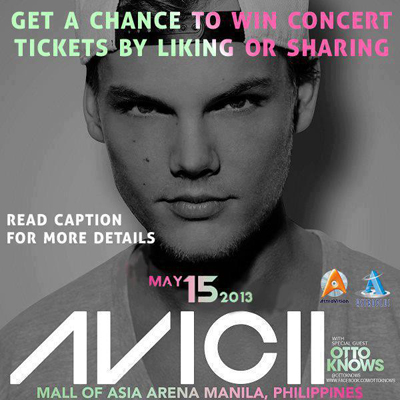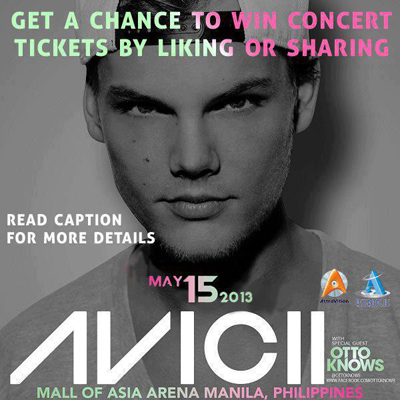 4. You can share as many times as you want but you only need to register once.  Astroplus will pick the winners randomly but all posting requirements must be met. All winners will be announce on Astroplus Facebook page at 6PM of Monday, MAY 9, 2013.  Check out Astroplus details and latest updates on https://www.facebook.com/Astroplus1.