UNIQLO Shukka Roll Video Contest 2013 Mechanics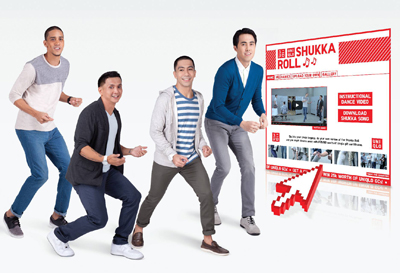 Join in the UNIQLO Shukka Roll Video Contest 2013 and get a chance to win UNIQLO gift certificates worth as much as P25,000. It's time to do the SHUKKA ROLL! Grab a pair of UNIQLO leggings and create a video of yourself dancing to the Shukka Roll song with our original dance moves. Hurry Up! Submission of entries from September 28 to October 31, 2013.
MECHANICS:
Log on to Facebook and Like the

UNIQLO Philippines

Facebook page.
Access the

Shukka Roll Facebook app

, register your name, age, email address, mobile number/landline, complete address and agree to the terms and conditions specified.
Watch the Shukka Roll video and the instructional video and download the Shukka Roll song.
After which, fans can now record and submit their own Shukka Roll video incorporating the original Shukka Roll dance moves, wearing their UNIQLO leggings, and dancing to the Shukka Roll song. Participant can wear any top and shoes without any visible name or insignia from a competitive brand.
Video entries must be accompanied with a caption that best describes the video and with mention of the UNIQLO brand. All video entries will be screened prior to public viewing in the Facebook app. All participants will be notified via their registered email address and the video will appear in the Shukka Roll app gallery.
List of the UNIQLO FW13 leggings that can be bought and worn as part of the video entries:
Item Code – Desciption(local)
079471 – W's ankle length leggings pants
079475 – W's ponte leggings pants
079476 – W's faux leather leggings pants
079661 – W's HEATTECH leggings pants
079664 – W's leggings pants
079666 – W's print leggings pants
079671 – W's corduroy leggings pants
087979  – W's heattech leggings pants
079695 – Men's leggings jeans
079894 – Men's leggings jeans (Color)
079704 – Men's leggings jeans (Print)
POSTING RULES:
Formats allowed are .mpg, .avi, .mov, .mp4 and .wmv. File should not exceed 5MB.
There can be a maximum of 10 people in the video, including the participant. Each participant in the video should wear any UNIQLO
leggings, with at least one wearing UNIQLO leggings from the Fall Winter 2013 collection.
Length of the material should be between 30 seconds and 1 minute.
For tops and shoes, other apparel brands can be worn in the video, for as long as it is not visibly branded.
No nudity, vulgar statements or anything that may be construed as offensive to the general public.
Please allow time for approval process. Video entries will appear within a 24-hour period.
Participants can share their video entries via the share option within the Shukka Roll App in the UNIQLO Philippines Facebook page. They can share as many times as they want.
VOTING RULES:
Everyone is qualified to vote.
To vote, like the UNIQLO Philippines Facebook site.
Access the Shukka Roll Video app, register your information and go to the video gallery.
Fans can vote once every 24 hours on multiple videos
Cut-off period for voting is on October 31, 2013. No votes will be qualified after 23:59:59 PDT.
CRITERIA FOR JUDGING
45% – Creativity and Originality (Showcase your creative streak with your unique version of the Shukka Roll in combination with the original Shukka Roll dance)
45% – Impact (Overall likeability of the video)
10% – Votes (number of likes to the video)
PRIZES:
1st prize: 25,000 worth of UNIQLO GCs
2nd prize: 15,000 worth of UNIQLO GCs
3rd prize: 10,000 worth of UNIQLO GCs
4th prize: 5,000 worth of UNIQLO GCs
5th prize: 5,000 worth of UNIQLO GCs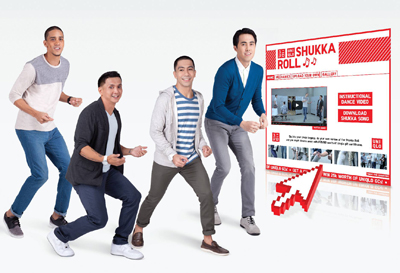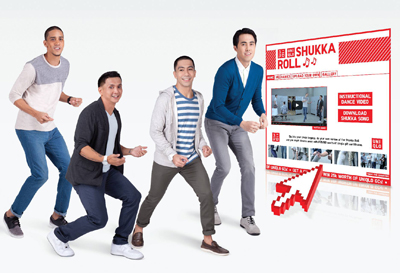 IMPORTANT DATES:
Judging period: November 7, 2013
Announcement of winners: November 8, 2013
Visit Uniqlo Philippines Facebook APP for full details and FB Page for the latest updates.