Steeltech Spot, Share & Win Promo June 2013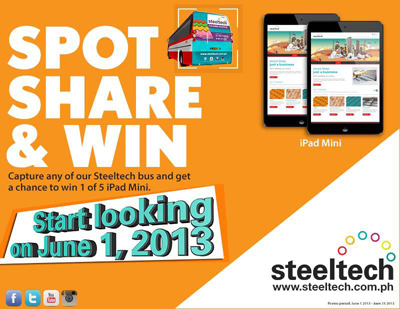 Steeltech Spot, Share & Win Promo June 2013
Join in the Steeltech Spot, Share & Win Promo to get a chance to win 1 of 5 IPad Mini, just capture any of steechtech bus to win. Start looking from June 1-31, 2013. Visit steeltech.com.ph for more details and latest updates.
About Steeltech
Steeltech offers an extensive range of steel building product solutions that specially caters to the demands of any residential, commercial or industrial building requirement.
Our strategic rollforming plants and sales offices located all over the country gets you covered wherever you may need our integrated steel building product solutions.
We aim to satisfy your need for quality with our assurance of dependable and reliable construction and supply solutions, developed utilizing the most advanced machine technologies from Japan and Korea to deliver the most efficient and highest quality products our industry has to offer.
Through our comprehensive and complete product line, you can be on your way to building structures that will be best remembered as landmarks of your success.
We constantly challenge ourselves to seek new benchmarks and solutions, bringing innovations into our enterprise, and extend our wealth of expertise and insights to mobilize other industries and businesses.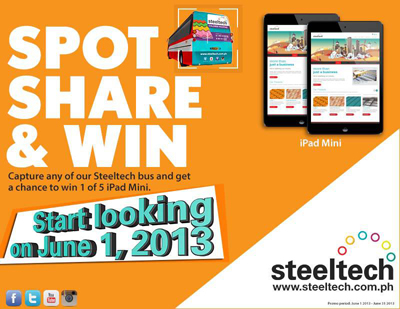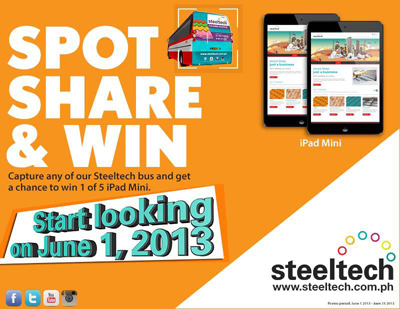 We carry out these initiatives to bring user-centric relevance of our products into diverse areas of human experience. And we do all of this to fulfill our vision to be one of the most preferred quality steel building corporations both in the local and international markets. SOURCE
This site uses Akismet to reduce spam. Learn how your comment data is processed.