Smile with Karat World Promo 2013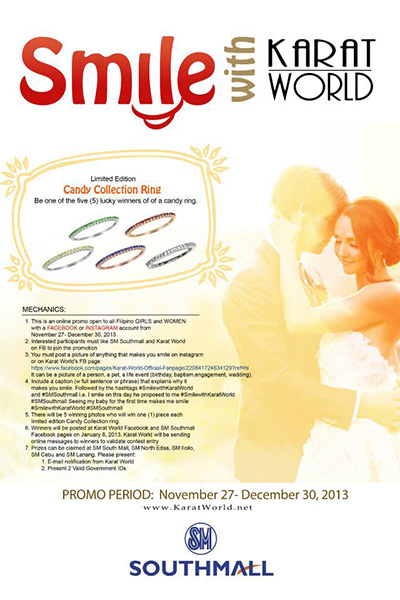 Join the Smile with Karat World Promo, by simply tells what makes you Smile? Smile with Karat World this season. Just post your picture of anything that makes you smile on Karat World FB page and get a chance to be one of our 5 lucky winners of a candy ring. Promo runs from November 27-December 30, 2013
MECHANICS:
1. This is an online promo open to all Filipino GIRLS and Women with a Facebook or Instagram account from November 27-December 30, 2013.
2. Interested participants must like SM Southmall and Karat World on FB to join the promotion
3. You must post a picture of anything that makes you smile on instagram or on Karat World'sFacebook page. It can be a picture of a person, a pet, a life event (birthday, baptism, engagement, wedding).
4. Include a caption (full sentence or phrase) that explains why it makes you smile. Followed by the hashtags #SmilewithKaratWorld #SMSouthmall.
example:
I smile on this day he proposed to me #SmilewithKaratWorld

#SMSouthmall

Seeing my baby for the first time makes me smile #SmilewithKaratWorld #SMSouthmall
5. There will be 5 Winning photos who will win one (1) piece each limited edition Candy Collection ring.
6. Winners will be posted at Kara World Facebook and SM Southmall Facebook pages on January 8, 2014. Karat World will be sending online messages to winners to validate contest entry.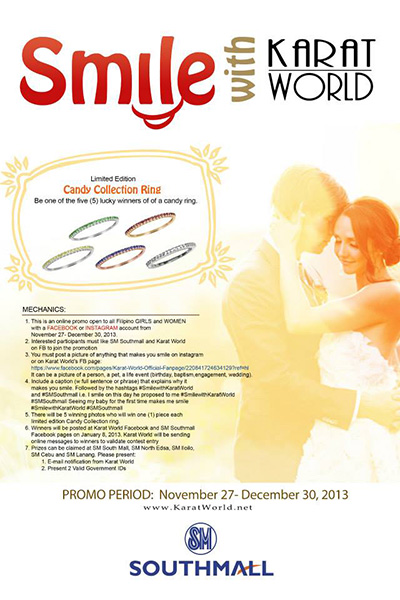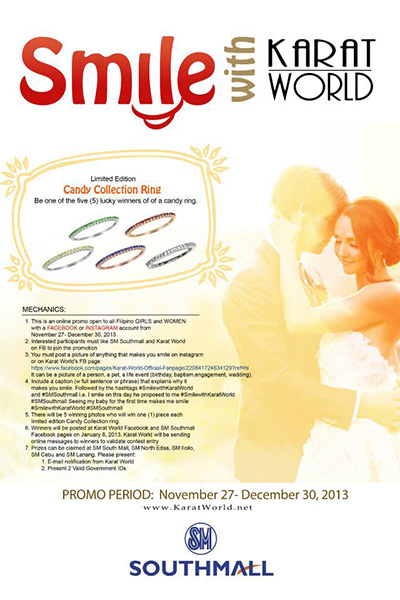 Visit Karat World Facebook page for more details and latest updates.