Selecta Cornetto Sarap ng Swerte Promo 2013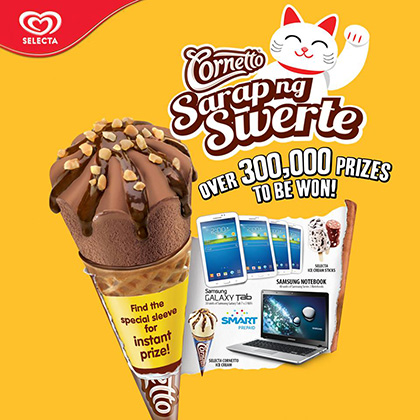 Join the Cornetto Sarap ng Swerte Promo where there are over P300,000 worth of prizes at stake! Look for the lucky mini cone-sleeve inside that indicate the prize. Promo runs from July 1, 2013 to September 30, 2013.
HOW TO JOIN:
Buy any of the following Cornetto flavors: Vanilla, Chocolate, Choco Java, Choco Hazelnut, Choco Caramel, White Chocolate, Black & White, Vanilla Disc, Chocolate Disc.
Check if there's a special yellow paper inside! which indicates the prize, are the considered winner of the Selecta Cornetto.
Read the info on the yellow paper carefully on how to redeem your prize.
PRIZES:
Samsung Galaxy Tab 3
Samsung Notebook Series 3
Smart PHP50 SMS
Selecta Cornetto (any of the following  flavors: Vanilla, Chocolate, Choco Java, Choco Hazelnut, Choco Caramel, White Chocolate)
Selecta Ice Cream Sticks (any of the following  flavors: Cookies & Cream, Double Dutch, Rocky Road, Quezo Real, Buco Salad)
HOW TO REDEEM:
For Samsung Galaxy Tab 3 / Samsung Notebook Series 3:
You can call Selecta official hotline: 0999 8420400 for the redemption details. Office hours: Monday-Saturday 9am-6pm.
For SMART Prepaid P50 SMS:
Winners must text Cornetto <Space> <Code> and send to 2100 to claim their free Smart SMS load. Code to be found on the sleeve.
Prize can be redeemed by Smart and Talk 'N Text Prepaid subscribers only.
Reward is valid for 5 days and can be used to send SMS to Smart and Talk 'N Text.
To redeem reward, subscriber must have at least P1 airtime balance. Subscriber will not be charged upon successful redemption of reward.
Subscriber will be charged P1 for failed redemption attempts.
Upon redemption of reward, subscriber will be automatically registered to receive SMS alerts on SMART Prepaid's new promos/offers. To stop SMS alerts, text ALERT OFF and send to 211.
Reward cannot be redeemed while on roaming.
For Selecta Products:
Winners should go to selected redemption centers for verification of the mini cone-sleeve. Once verified, the store will issue them the prize. Redemption centers are as follows:
All 7-11 stores nationwide
All Ministop stores nationwide
Participating Shell, Total Bonjour, and Rose Pharmacy stores nationwide. The list of participating stores can be found in

www.facebook.com/selectacornetto

.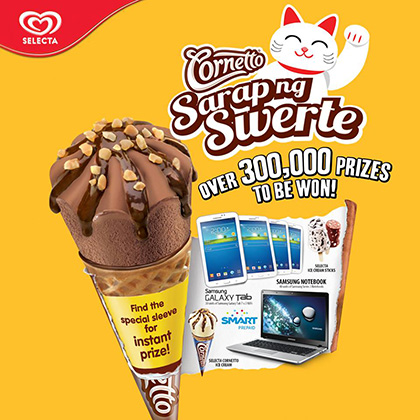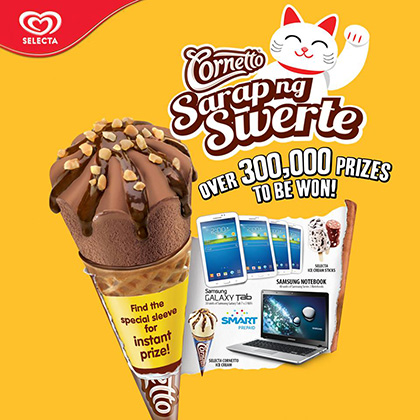 Redemption period is only until November 30, 2013 for all prizes. Visit Selecta Cornetto Facebook App for more details and latest updates.