Selecta Cornetto Ride to Fame Contest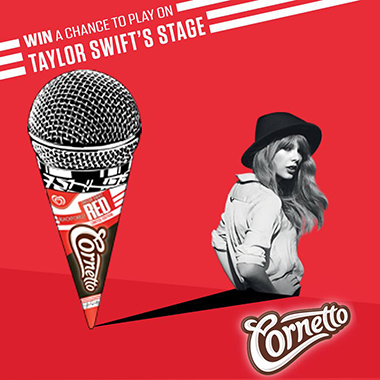 Taylor Swift's avid fans, here's your sweetest chance to see and sing with her on stage as the American Pop Superstar is coming back to Manila this June for her The Red Tour! Grab the opportunity to showcase your singing talent plus a chance to record and release your own single under Ivory Music. Don't miss this moment with your idol when you get the lucky chance to be one of the bands and singers vying perform with the in a one-night show. What are you waiting for? Join the Selecta Cornetto Ride to Fame Contest – have a chance to play on Taylor Swift's stage! Submit your Selecta Cornetto Ride to Fame entries now!
How to Join to Selecta Cornetto Ride to Fame?
Selecta Cornetto Ride to Fame is open to amateur Filipino Artist from 16 years old and up
Just create a music video of yourself in Solo or a group composed of 2 to 5 members performing any song (original or cover).
Upload your created music video on Youtube using your personal/account account.
Visit and LIKE the

Selecta Cornetto Facebook

page and click on to Cornetto Red Tour Philippines

FB APP

, fill-out the following registration details and submit via App:
Name of Act
Names of members
Contact details
Name
Landline number
Mobile Number
Complete Address
Birthdates of members
Contact details of parent/guardian of minors
Artist Profile
Photo of Music Act
Youtube link to video submission
CRITERIA OF JUDGING:
40% Musicality (Technical Skills and Originality)
30% online Votes
20% Performance
10% Overall Appeal
100% TOTAL
PRIZES:
Perform 3 songs on Taylor Swift's stage at Red Tour Cornetto
Music contract with Ivory Music
Record and Release a single under Ivory Music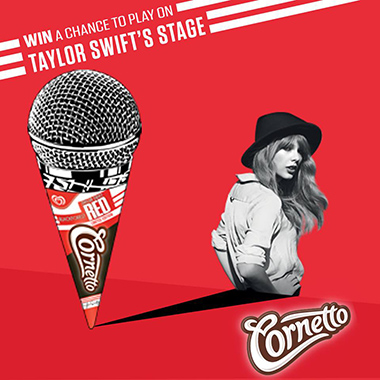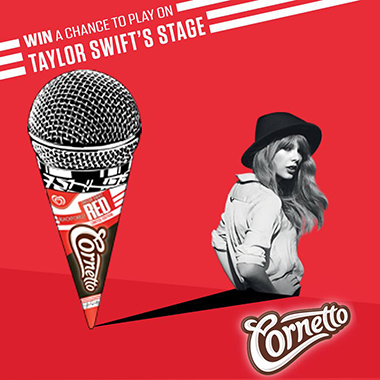 Visit Cornetto Red Tour Philippines FB APP for full mechanics details and Selecta Cornetto Facebook page for the latest updates.