Icona Pop Style Contest – Win Shopping Spree at SM Accessories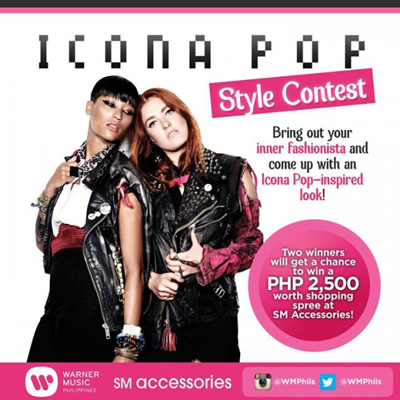 Join the Icona Pop Style Contest and bring out your inner fashionista and come up with an Icona Pop-inspired look for a chance to win a PHP 2,500-worth shopping spree at SM Accessories! Promo runs till October 26, 2013
MECHANICS:
STEP 01: LIKE & FOLLOW WMPHILS & SM ACCESSORIES!
Make sure to like and follow our official accounts:
STEP 02: EMAIL
Put together an Icona Pop-inspired look and take a photo of yourself with your styled outfit. Email the high-quality unedited photo to wmphilspromo@gmail.com with the following details: Complete Name, Age, Location and Contact Number
Email Subject Header: I Love It! Icona Pop Style Contest – Your Last Name
Deadline for submission of photos is on October 12, 2013 (Saturday), 11:59PM
STEP 03: TAG & LIKE
All submitted entries will be posted on the Warner Music Philippines Page. Tag yourself with the photo and get as many of your friends to like and share your photo!
STEP 04: ANNOUNCEMENT OF WINNERS
Two winners will be chosen through the following criteria:
– 50% Icona Pop Style factor / Creativity
– 40% Likes & Shares
– 10% SM Accessories & WMP's Choice
*Winners will be announced on October 27, 2013
ABOUT ICONA POPIcona Pop are a Swedish duo who were formed in 2009, with electro house, punk and indie pop music influences. The two members Caroline Hjelt and Aino Jawo, who grew up in Stockholm, create music "which you can both laugh and cry with at the same time". More info at www.iconapop.com & http://facebook.com/iconapopCheck out their music videos:
"I Love It" – http://bit.ly/IconaPopILoveItMV
"Girlfriend" – http://bit.ly/IconaPopGirlfriendMV
"All Night" – http://bit.ly/IconaPopAllNightMV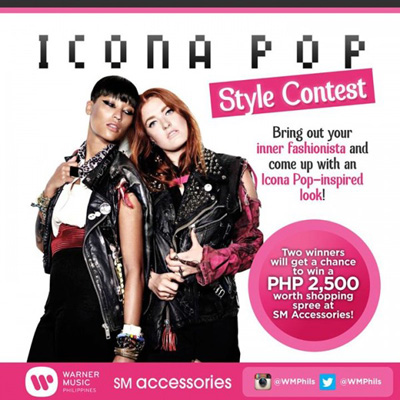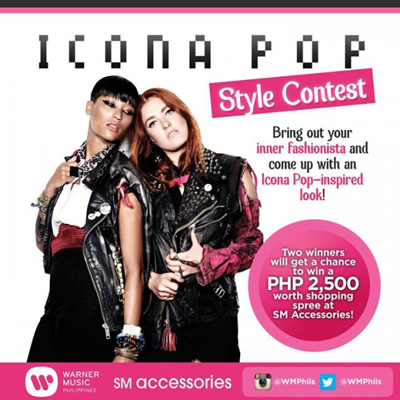 Their debut album, "THIS IS…ICONA POP" is out and available at your favorite record bars! Make sure to grab a copy or download it on iTunes. 
Visit Icona Pop Style Contest FB Notes for full details and Warner Music Philippines Facebook Page latest updates.
This site uses Akismet to reduce spam. Learn how your comment data is processed.