Happy Lemon Stamp Collection Promo 2013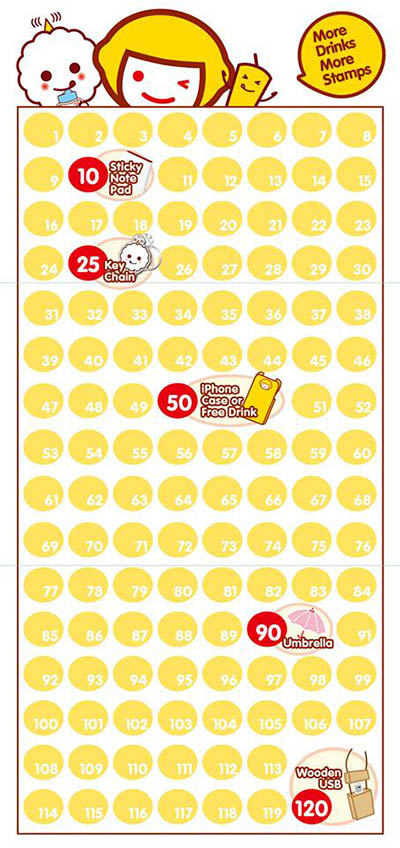 Happy Lemon Stamp Collection card is back! This time around, you get to take home more collectibles as you accumulate more stamps! Promo runs from August 19, 2013 to October 19, 2013.
MECHANICS:
1. Customer can avail of a stamp collection card from August 19, 2013 to October 19, 2013 with no purchase required. Collection of stamps will be up to October 19, 2013. Redemption of collectible is until December 19, 2013 only.
2. One (1) stamp is awarded for each purchase of a large-sized Happy Lemon drink.
3. Customer is entitled to the following collectible items at the following sticker quantities:
Sticky Note Pad at 10th stamp
Key Chain at 25th stamp
iPhone 4/4s Case or Free Regular Drink at 50th stamp
Umbrella at 90th stamp
Wooden USB at 120th stamp
4. Customer must present the card upon purchase to get the corresponding number of stamps. A "No Promo Card, No Stamp" policy will be strictly implemented across all branches.
5. Customer must present the card to redeem corresponding collectible.
After redeeming a collectible, a customer can continue to earn stamps for the next collectible of higher value using the same card.
6. Tampering with and/ or transferring of stamps will render the loyalty card void.
7. Combining loyalty cards to redeem rewards will not be allowed.
8. In case of loss of the loyalty card, previously collected stamps will not be replaced.
9. Transactions with Senior Citizen and handicapped discounts qualify for the promotion.
10. All offers are not applicable to delivery and booth package services.
11. The loyalty card is applicable to Happy Lemon in the Philippines only.
12. All offers are not applicable to transactions covered by other existing in-store promos.
13. In case of any disputes, Happy Lemon Philippines reserves the right of final decision.
Promo Period is from August 19 to October 19, 2013
Per DTI NCR Permit #4239 Series of 2013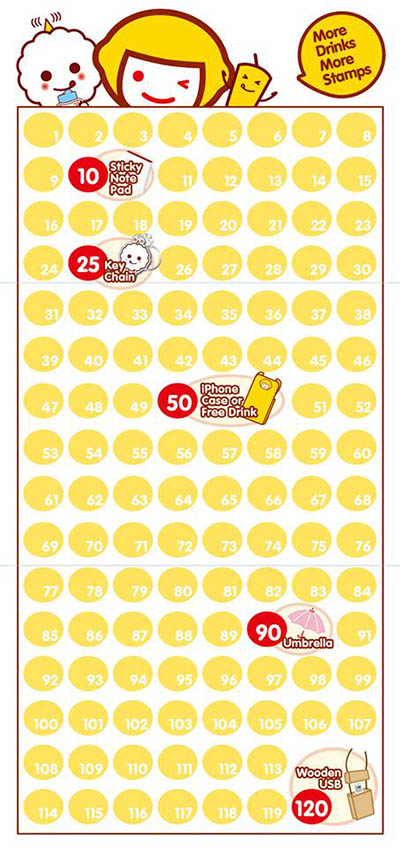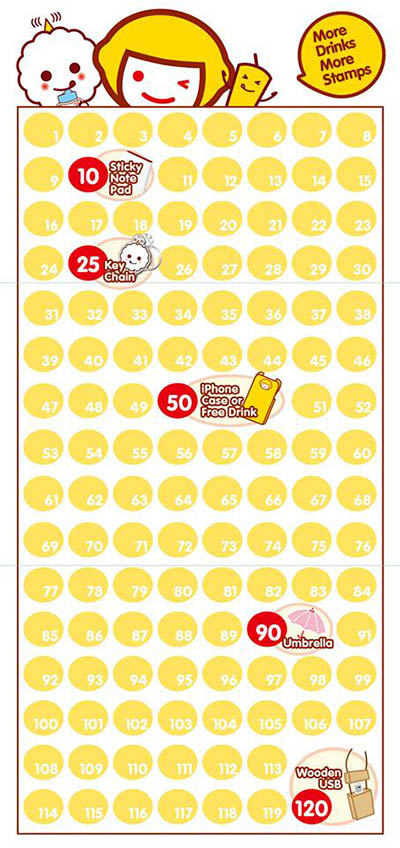 Visit Happy Lemon Philippines Facebook page for more details and latest updates.