My Favorite Summer PaperDoll 2014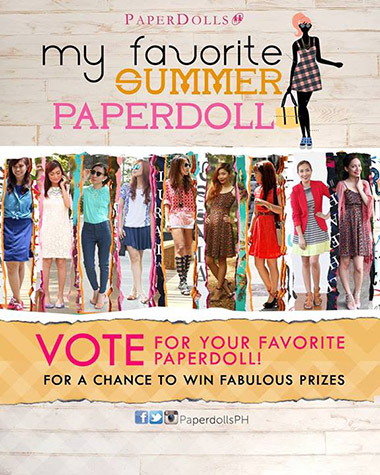 Vote for My Favorite Summer PaperDoll and Get a chance to win Php 3000 worth of Gift Certificate  from PaperDolls. Support your favorite doll get the top three highest and get a chance to win the exciting prizes! Voting duration is until May 26, 2014. Vote Now!
MECHANICS:
Follow PaperdollsPH Instagram (@paperdollsPH), Twitter (@paperdollsPH), and like our Official Facebook account

www.facebook.com/PaperdollsPH.

Entries will be verified to see if the user is following all accounts above.
Nine (9) Paperdolls Summer inspired look from Philippines well known fashion bloggers will be posted in Paperdolls' Facebook and Instagram page for fan page members and followers to see.
Paperdolls will upload a "My Favorite Summer Paperdoll" Album for official voting entries.
To vote for your favorite summer Paperdoll like their photo and post their name through comment section of the album. Don't forget to put #myfavepaperdoll and #paperdollsPH at the end of your comment.
Voting will be on Paperdolls Official Facebook Fanpage,

Three (3) Grand winners

will be randomly picked from the top three pick summer inspired Paperdoll summer inspired look. ( Reminder: Be sure to support your favorite Paperdoll for a chance to win the grand prize)
The Nine (9) Summer Entry looks will be posted in paperdolls Offical Facebook fanpage on May 1, 2014. 4:00pm.

Voting duration is from May 1, 2014 until May 26, 2014 (6:00pm)
Tallying of votes is on May 27, 2014
Announcement of 3 Grand Winners and "People's Choice: Favorite Paperdoll" will be in May 28, 2014 (4:00pm)

The Top 3 look of My Favorite Paperdoll Contest will be posted in PaperDolls Facebook, Instagram, Twitter and boutiques as "People's Choice: Favorite Paperdoll"
The 3 Grand Winners to be randomly picked from the top three Favorite paperdolls gets a chance to bring home a Php 3,000 worth of Gift Certificate each from Paperdolls.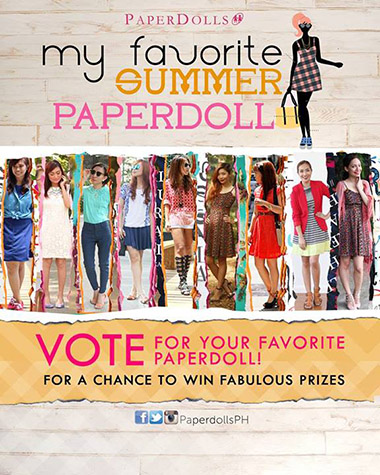 Visit PaperDolls Facebook page for more details ang latest updates.  Keep in touch with our new promos! See more updates in our Facebook page www.facebook.com/UnliPromo.