Father's Day Twit-Stagram Promo 2013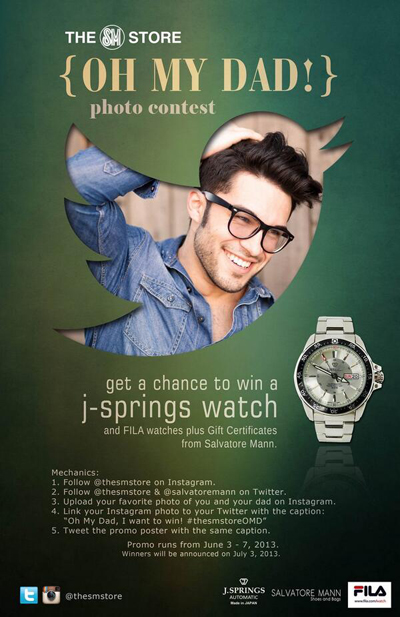 Join The SM Store 'Father's Day' Twit-Stagram promo and get a chance to win Fila & J-Springs watches and P5,000 Salvatore Mann GC!!! Check it out now!
MECHANICS:
1. Follow @thesmstore on Instagram.
2. Follow @thesmstore & @SMSalvatoreMann on Twitter.
3. Upload your favorite photo of your dad on Instagram.
4. Link your Instagram photo to your Twitter with the caption: "Oh My Dad, I want to win! #thesmstoreOMD".
5. Tweet the promo poster with the same caption.
JUDGING:
1. The (10) entries will be selected every week starting from June 3 until June 28.
2. The top (10) of each week will be part of the final forty (40)
3. Two (2) runner-ups will be chosen and will get the consolation prize.
4. Best photo wins the grand prize.
PRIZES:
Third (3rd) prize:
One (1) Fila watch & P1,500 gift certificate from Salvatore Mann
Second (2nd) prize:
One (1) Fila watch & P3,000 gift certificate from Salvatore Mann
Grand prize:
One (1) J-Springs watch and P5000 gift certificate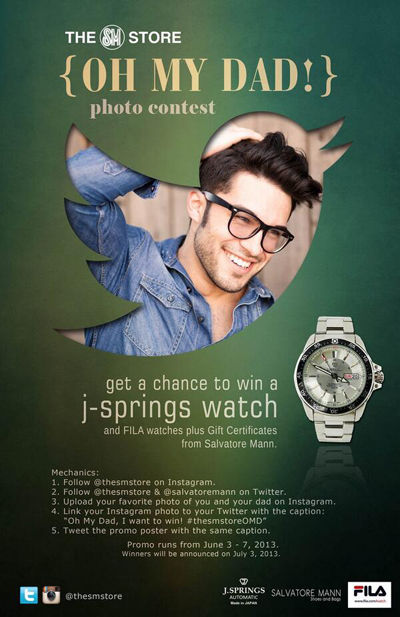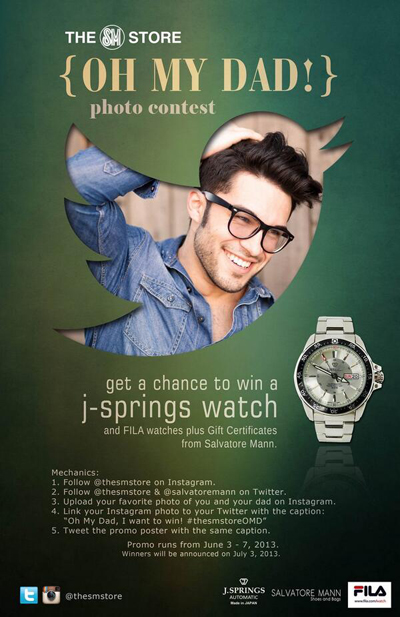 *Winners will be notified via their Twitter account.  Visit The SM Store Facebook page for more details and latest updates.