Enfakid A+ and Disney Art Attack: See What They Learn Promo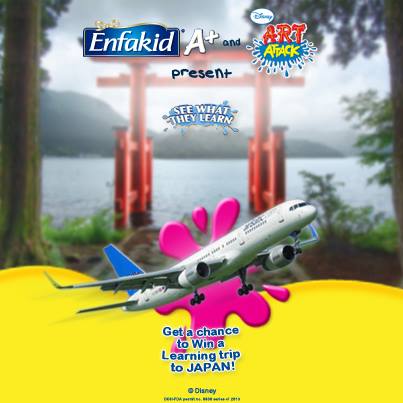 See What They Learn champions the ideas of learning among kids by giving each one a venue to share new-found knowledge and express it through art. Show us your child's best artwork and get the chance to win instant freebies and vie for bigger prizes including 4 iPad minis and a trip to a Japan!
The contest is open to parents or guardians (Philippine residents) of kids aged 37 months to 7 years old as of the submission period of this contest (July 21-August 17, 2013). They should like the Enfalearn Philippines Facebook page. Only one entry per parent/guardian.
MECHANICS:
PHASE 1
Submission Period: July 21, 2013 to August 17, 2013
Deadline: August 17, 2013 11:59 pm
Only fans of

Enfalearn Philippines Facebook

page with kids aged 37 months to 7 years old can join the promo. To join, they simply have to click on the "See What They Learn" tab and click the "Join" button.
Users will then be asked to fill out a form with their contact details.

Parent/Guardian's full name
Home Address
Contact Number
Valid e-mail address
Child's full name
Child's Birthday

Participants will be asked to tick the checkbox and certify that they're a parent or guardian of a 37 moths to 7 year old child.

Once they have submitted the registration form, the parent must upload a photo (IMPORTANT: only 1 photo, collage NOT allowed. The image must not be manipulated or enhanced in any way otherwise it will be automatically disqualified.) showing her child and an artistic creation he made using any art materials. The said artwork must be created by the child himself.

Note that during the final judging, actual demonstration may be required.

Parent will then be asked to explain in 120 characters maximum (in English) how brain development and learning was demonstrated with relation to the image. Not doing so will result in automatic disqualification.
Entries submitted are FINAL and cannot be edited.
All entries are subject to approval. Upon approval (within 24 hours), entries may be viewed in the Gallery Page where a "Share" button may be clicked to promote one's entry. Mead Johnson may randomly choose to feature an entry on the Enfalearn Facebook Page Wall and Website to encourage more submissions.
PHASE 2
Voting Period: Aug 20, 2013 to Sept 2, 2013
Deadline: Sept 2, 2013 11:59 pm
On August 20, 2013, fans will be encouraged to vote for the best photo on the gallery. To do so, they would simply have to press the "vote" button under the photo entry they like, or click on the photo to enlarge it, then click on the vote button.
Users can only vote once during the promo's voting period and cannot change their votes. Voting shall end 11:59 pm of Sept 2, 2013.
Upon voting for an entry, users will be asked to enter a CAPTCHA phrase to verify that s/he is human and not a BOT.
Contestants suspected to be using BOTS and fake accounts will automatically be disqualified.
PHASE 3
Elimination: September 6, 2013
The Top 10 most voted entries will be shortlisted to 5 based on the following criteria:

70% Number of votes
30% Relevance of photo caption (What does this artwork say about your child's learning?)

Selected 5 entries need to confirm the child and parent/guardian's availability for the final judging (September 14, 2013) on or before September 9, 2013, Monday, not later than 4pm. If the child and parent/guardian are unable to confirm their attendance on September 14, he/she will automatically forfeit his slot in the Top 5, and will be replaced by the next in rank.
PHASE 4
Judging: September 14, 2013
The following will be the criteria for judging:
35% – Votes
35% – Quality of learning (How well does the entry exemplify brain development and cognitive skills relative to the child's age?)
30%- Authenticity (Was the actual feat of learning done independently by the child without the direct involvement of another adult or child?)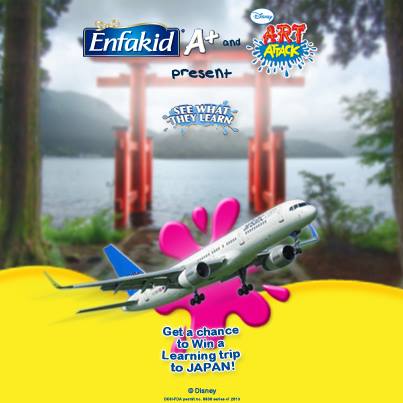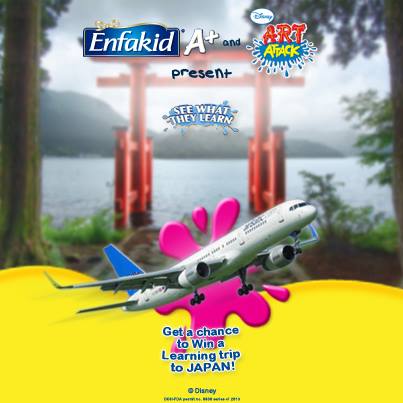 PRIZES
Top 1 – Learning trip for four to Tokyo Japan (airfare, accommodation, and pocket money). Should be booked within 6 months from awarding. Not convertible to cash.* Contestant must submit all necessary requirements for Visa/passport approval.
Ranks 2-5 – iPad Mini
Ranks 6-10 – Enfakid A+ 1.8 kg each
First 500 submissions – FREE Enfakid A+ 80g pack, delivered to their registered mailing address.
Visit Enfalearn Philippines Facebook Tab for full details and and FB Page latest updates.