AirAsia Flashback 2013 Instagram Contest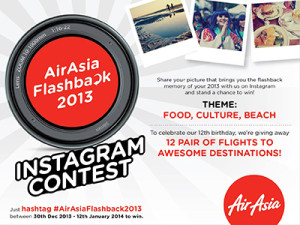 In celebration of 12th birthday and the awesome year of AirAsia! They are giving away 12 pair of flights to awesome destinations. Simply join the AirAsia Flashback 2013 Instagram Contest! Just Submit your most memorable photos of 2013 together with #AirAsiaFlashback2013 and get a chance to  win free flights! Contest runs from December 30, 2013 to January 12, 2014.
HOW TO JOIN
Upload your best memorable 2013 Flashback photo according to the theme given (beach, food, culture) on Instagram and hashtag

#AirAsiaFlashback2013

.
You may submit more than 1 photo as long as they are related to the themes given.
Winners will be selected based on best photos submitted. If your photo is selected, we will contact you on Instagram and you will then need to share your full details for us to reach you.
CONTEST THEME:
Announcement of Winners:
January 24, 2014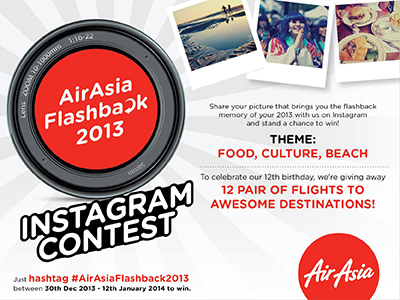 Visit AirAsia blogsite for more contest details and AirAsiaPhilippines Facebook page for latest updates