Win a SAMSUNG ATIV SMART PC Promo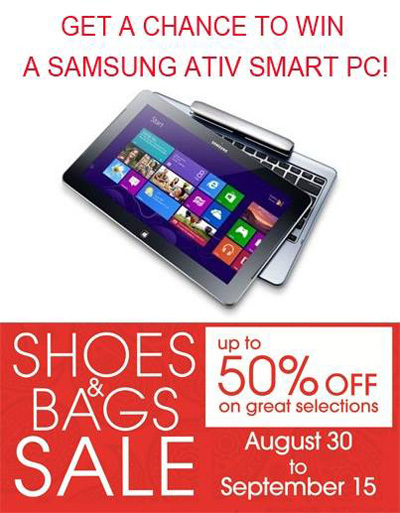 Want to win a SAMSUNG ATIV SMART PC?
How to Join:
Strike a pose & take a photo of yourself or your favorite Sale Item with our Shoes & Bags Sale Posters at any branch of The SM Store.
Send your Photos via Private Message on the SM Shoes and Bags Facebook or Email to

smshoesandbags@gmail.com

*Photos are for posting on the SM Shoes & Bags Facebook Gallery.

The photo must be only be in .jpeg or .png format, and must not be bigger than 2MB in size.
The FB private message or e-mail must contain the ff. info:

a. Full Name of the person in the Photo
b. Facebook account name.
c. The branch where the photo was taken.

*Only one (1) photo entry per Facebook/ E-Mail account is allowed.

Submission of entries is from Sept. 2, 2013 until Sept. 15, 2013.
Announcement of winners will be on September 16, 2013 – 3PM at the SM Shoes & Bags Facebook Page.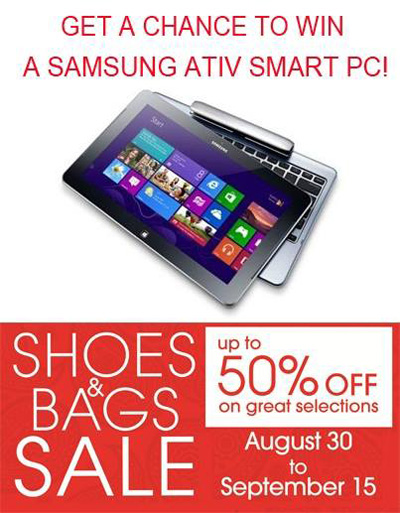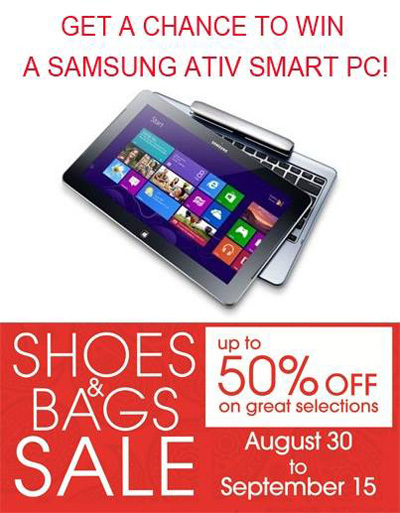 Visit The SM Store Facebook page for more details and latest updates.