Wedding Anniversary Promo at Vikings SM Marikina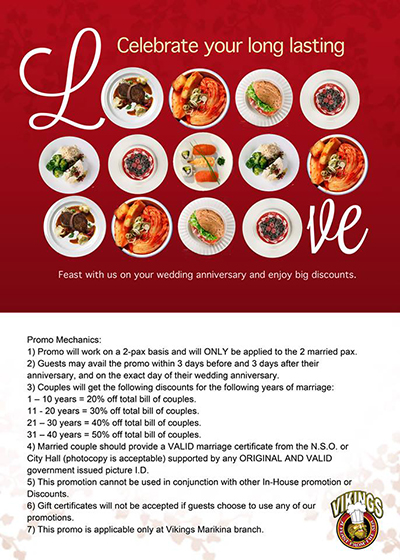 Wedding Anniversary Promo at Vikings SM Marikina
Vikings invites you to come and join in the Vikings SM Marikina Wedding Anniversary Promo! Please read through the mechanics below to join:
Wedding Anniversary Promo:
1. Promo will work on a 2-pax basis and will ONLY be applied to the 2 married pax.
2. Guests may avail the promo within 3 days before and 3 days after their anniversary, and on the exact day of their wedding anniversary (basically, the lovely wedded couple can avail it for 7 days!!!!)
3. Couples will get the following discounts for the following years of marriage:
1 – 10 years = 20% off total bill of couples only.
11 – 20 years = 30% off total bill of couples only.
21 – 30 years = 40% off total bill of couples only.
31 – 40++ years = 50% off total bill of couples only.
4. Married couple should provide a VALID marriage certificate from the N.S.O. or City Hall (photocopy is acceptable) supported by any ORIGINAL AND VALID government issued picture I.D.
5. This promotion cannot be used in conjunction with other in-House promotion or Discounts.
6. Gift certificates will not be accepted if guests choose to use any of our promotions.
7. This promo is applicable only at Vikings Marikina branch.
8. Vikings SM Marikina Promo Wedding Anniversary Promo is valid until December 2013.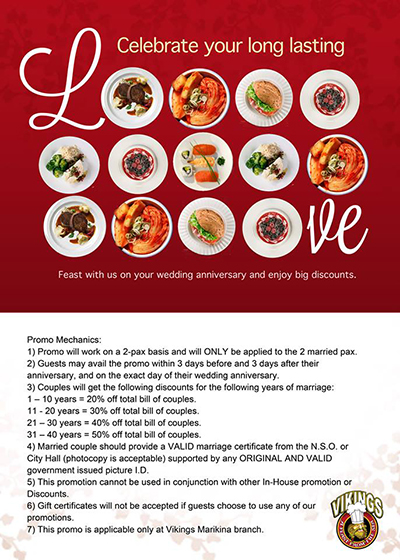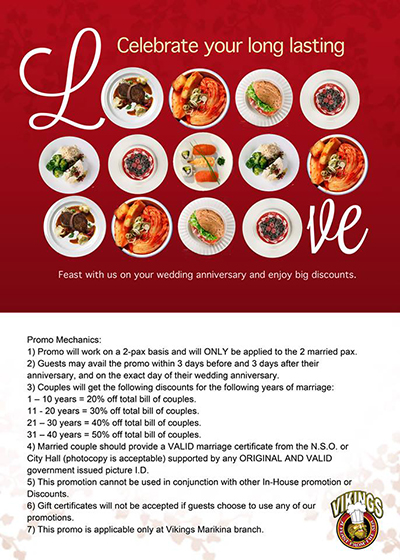 Visit Vikings SM Marikina Facebook page for more details and get the latest updates.