Shu Uemura Takashi Murakami Party – I Want to Experience Tokyo Promo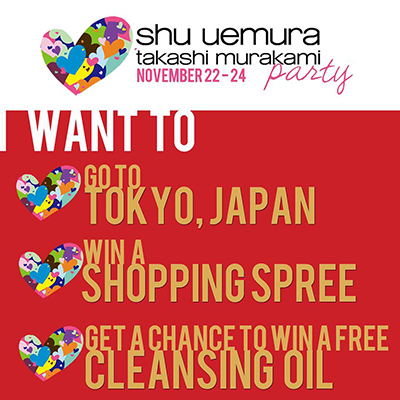 Be there at shu uemura takashi murakami party on November 22-24, 2013 and get a chance to win following exciting prizes:
AN ALL EXPENSE* PAID TRIP TO TOKYO (3D/2N) (1 very lucky Winner)
Php 30,000 shopping spree EACH for you and your friend (1 Winner)
shu uemura 450ML CO (30 Winners to celebrate our 30th Anniversary)
Save the date to visit your nearest shu uemura boutique!
What will happen on these dates:
Get a chance to win the prizes above for any minimum purchase of Php 7,000!
Pre-Christmas 10% discount on all shu products**
Special Beauty Classes and Limited Edition Gift items to be given away for attendees and shoppers!!!***
Nov 22 (Fri): Trinoma
Nov 23 (Sat) : Rockwell / Rustans Makati
Nov 24 (Sun): Shangrila / ATC
To Join, You must be on the list!
RSVP @ (+63) 917 624 1201
Name, E-mail, Date and Store where you want to go
You may go to more than once.
For questions, email @ shuuemuraph@yahoo.com
*Complete details on mechanics will be released shortly
**Excluding shu color atelier
***Freebies will be announced soon!
Stay tuned for more details! See you shufanatics!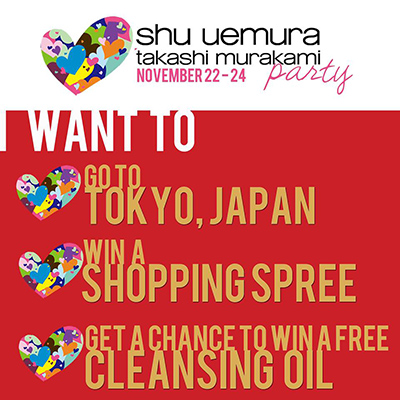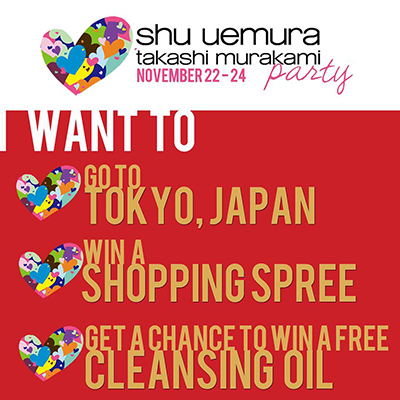 Visit shu uemura Facebook page for more details and latest updates.