Kapuso Milyonaryo Level Up Pamasko Season 6 Promo Mechanics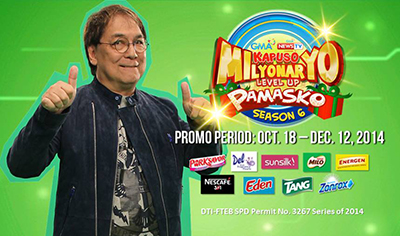 Kapuso Milyonaryo enters 6th Season and will continue to bring happiness and excitement to all GMA's avid viewers across the country. Kapuso Milyonaryo Level Up Pamasko Season 6 is the latest from GMA Network's promo series that takes winning to the next level and allows their viewers to win exciting prizes by sending entries. Winners will be drawn and announced weekly. The more entries you send, the more chances of bringing home million pesos worth of prizes!
Sending of entries starts on October 18 to December 12, 2014. What are you waiting for? Start sending your entries now. For further details, see Kapuso Milyonaryo Level Up Pamasko Season 6 Promo Mechanics :
HOW TO JOIN :
1. Watch out for the Kapuso Milyonaryo Level Up Pamasko mechanics and proof of purchase plugs that will start airing on October 6, 2014 to know how to join the promo.
2. Write down the following details (Name, Age, Complete Home Address, Contact Number and your Signature).
3. Secure each entry is enclosed with the proof-of-purchase of any of the following partner sponsors listed below:
PORKSAVOR ALL-IN-ONE SEASONING MIX
DEL FABRIC SOFTENER
SUNSILK
MILO
ENERGEN
NESCAFE 3 IN 1
TANG
EDEN
ZONROX BLEACH
(*Combination of proof-of-purchase from different sponsors is not allowed.)
HOW TO SEND YOUR ENTRIES
1. Enclosed your entry with complete details and the proof-of-purchased in a legal-sized envelope and write the following details at the back :
Promo Title
Enclosed Participating Brand
Area of Residency (NCR, Luzon, Visayas, or Mindanao)
2. Drop your entries with complete details and enclosed with proof-of-purchase in drop boxes located at selected Mercury Drugstore outlets nationwide, GMA Regional TV and Radio stations nationwide or at GMA Network Center, Edsa corner Timog Avenue Quezon City.
RAFFLE PRIZES
WEEKLY PRIZES:
There will be eight(8) winners of P7,000 cash prize per week, 2 winners each from NCR, Luzon, Visayas, & Mindanao area
One (1) winner of P50,000 cash prize from ENERGEN (tax-free!)
Twenty-eight (28) winners of smartphones
Four (4) weekly winners of refrigerator
SURPRISE PRIZES
Three (3) winners of 1 Million cash prize each
GRAND DRAW
One (1) winner of House & lot, (tax-free!)
One (1) winner of brand new car, (tax-free!)
Nine (9) winners of Php 1,000,000 (tax-free!)
ANNOUNCEMENT OF WINNERS
All Winners of Weekly, Suprpise and Grand Draw will be announce on-air on GMA Sunday All Stars, in commercial gaps of GMA and GMA News TV Programs, in www.gmanetwork.com/kapusomilyonaryo and in GMA Kapuso Milyonaryo Facebook page.
Following the success of recent Kapuso Milyonaryo campaigns, GMA launches Kapuso Milyonaryo Level Up Pamasko Season 6 in partnership with PorkSavor, Del, Sunsilk, Milo, Energen, Nescafe 3-in1, Eden, Tang and Zonrox. Drop your entries now and be the lucky winner to own a house and lot or a brand new car! Millions worth of prizes are at stake. All are TAX-FREE!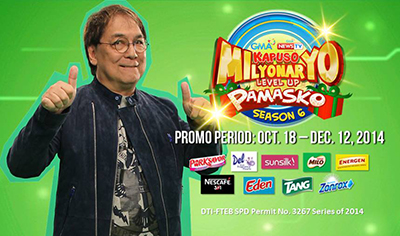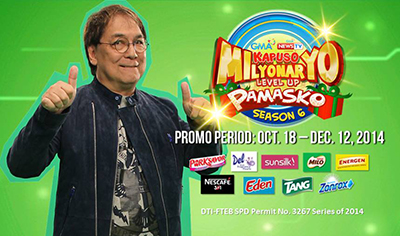 Visit www.gmanetwork.com/kapusomilyonaryo for full promo details. You can also UnliPromo and GMA Kapuso Milyonaryo Facebook page for the latest updates.
As per DTI-FTEB SPD permit No. 3267 Series of 2014