Astroplus GRAND THEFT AUTO Promo 2014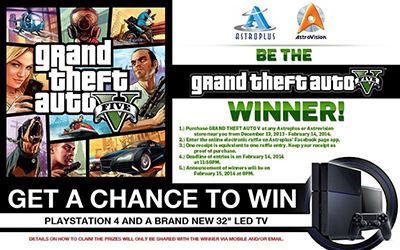 Be the Astroplus GRAND THEFT AUTO Promo Winner! and get a chance to win 1 Sony 32″ LED TV and 1 Playstation 4! Promo runs till February 14, 2014
PROMO MECHANICS:
Purchase

GRAND THEFT AUTO V

at any Astroplus or Astrovision store near you from December 13, 2013 – February 14, 2014.
Enter the online electronic raffle on

Astroplus' Facebook Page App 

One receipt is equivalent to one raffle entry. Keep your receipt as proof of purchase.
Deadline of entries is on February 14, 2014 at 11:59PM.
Announcement of winners will be on February 15, 2014 at 8PM.
The GRAND WINNER will win 1 Sony 32″ LED TV and 1 Playstation 4!
Details on how to claim the prizes will only be shared with the winner via mobile and/or email.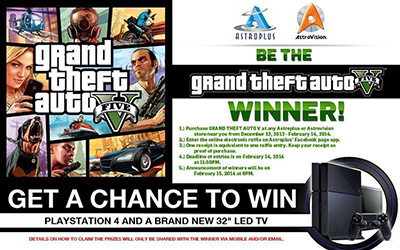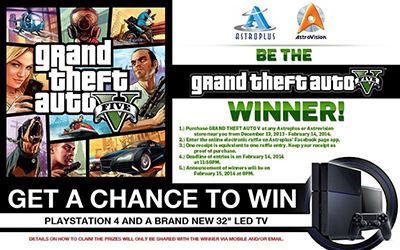 Visit Astroplus Facebook page for more promo details and latest updates.