Win a MyPhone Agua STORM at FINDING WALLY Contest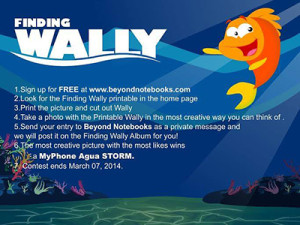 Are you up for a challenge? Join the FINDING WALLY contest and get a chance to win a MyPhone Agua STORM! Contest ends March 07, 2014.
MECHANICS:
Sign up for FREE at

www.beyondnotebooks.com

Look for the Finding Wally printable in the home page
Print the picture and cut out Wally
Take a photo with the Printable Wally in the most creative way you can think of .
Send your entry to Beyond Notebooks as a private message and we will post it on the Finding Wally Album for you!
The most creative picture with the most likes wins a MyPhone Agua STORM.
Contest ends March 07, 2014.
About Beyond Notebooks
EDUCATION through ANIMATION!
Beyond Notebooks is an animation company that creates educational videos. Our videos are lesson aids designed to help teachers and parents capture kids' attentions and enhance their memory retention skills. We use one of the most practical tools we have today–the internet. Our resources are easily accessible from almost anywhere. We have videos, quizzes, games, games, mobile apps, activity apps, activity pages and other tools that cover a wide range of topics.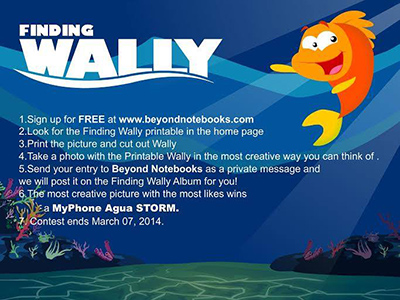 Beyond Notebooks vision is to become the leader in designing knowledge.
Visit Beyond Notebooks Facebook page for more details and latest updates.