McDonald's Kiddie Crew Workshop 2014 – Registration and Schedules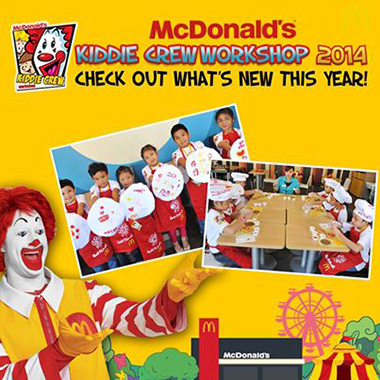 Summer has officially begun. But Summer isn't all about the beach, pool parties, and getaways. It's also that time of they year when moms find something productive for their kids to do, like workshops and the likes. If you're a mom and you're looking for these kind of stuff for your kids, well, McDonald's Kiddie Crew Workshop 2014 is a perfect fit. Not only will they learn the importance of hardwork, teamwork, and discipline, but they will also have a lot of fun with other kids! Make your kids' summer vacation awesome and sign them up on the next McDonald's Kiddie Crew Workshop!
Registration fee includes shirt, cap, bag, artwork materials, pins/badges at the end of every activity, certificate, and meals for 5 days. Plus, a Php 500.00 McCelebrations Gift Certificate to be given during Grand Graduation. Registration is ongoing until April 30, 2014. Register now!
McDonald's Kiddie Crew Workshop Period
Week 1: March 24 to 28, 2014
Week 2: March 31 to April 4, 2014
Week 3: April 7 to 11, 2014
Week 4: April 21 to 25, 2014
Week 5: April 28 to May 2, 2014
Week 6: May 5 to 9, 2014
Week 7: May 12 to 16, 2014
Week 8: May 19 to 23, 2014
Week 9: May 26 to 30, 2014
McDonald's Kiddie Crew Workshop Schedule
8:00am to 10:00am
1:30pm to 3:30pm
4:00pm to 6:00pm
McDonald's Kiddie Crew Workshop Activities:
Values formation lecture: Teamwork, handwork, discipline, sharing
On-the-floor training: front counter, drive-thru, lobby
Workshops: Apron Making, Burger Making, Talent Workshop, Jazz-Up Hat
Song and Dance: Kiddie Crew Theme Song, Do-the-Ronald, Dance Exercise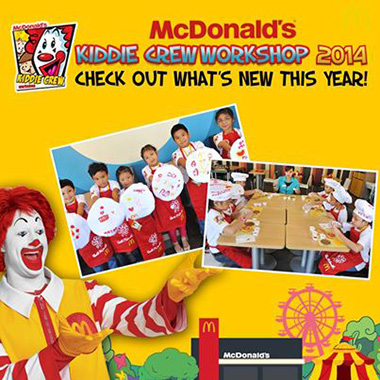 Visit www.mcdonalds.com.ph for full workshops details and Mcdo Facebook page for latest updates.