Epic Movie Promo "EPIC TATTOO" at Robinsons Movieworld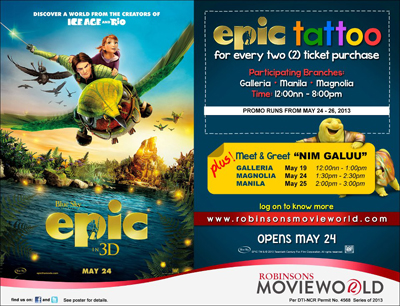 Get an EPIC TATTOO for every two tickets purchased at Robinsons Galleria, Manila and Magnolia on May 24 – 26 from 12nn to 8pm! PLUS, meet and greet NIM GALUU on May 19, 24 and 25 at Robinsons Galleria, Magnolia and Manila.
From the creators of Ice Age and Rio by 20th Century Fox, here comes another great movie to watch, EPIC is story of an ongoing battle deep in the forest between the forces of good and the forces of evil where a girl finds herself magically transported into this unknown universe, that she must band together with a bunch of fun and playful characters in order to save their world. Epic will open on May 24, 2013.
Robinsons Movieworld Participating Cinemas:
Robinsons Galleria
Robinsons Magnolia
Robinsons Place Manila
Meet & Greet "Nim Galu" Schedule
May 19, 2013 – Robinsons Galleria – 12nn to 1pm
May 24, 2013 – Robinsons Magnolia – 1:30pm to 2:30pm
May 25, 2013 – Robinsons Place Manila – 2pm to 3pm
For more details and latest updates, Please visit Robinsons Movieworld Facebook page and website at www.robinsonsmovieworld.com.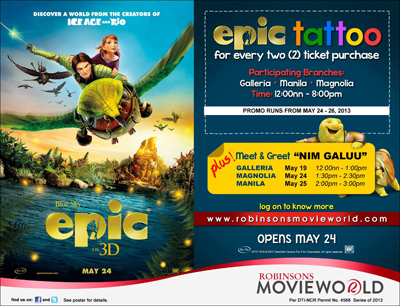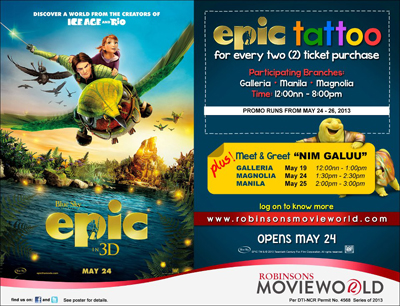 Other search terms:
epic movie unlipromo
epic movie showing in manila
epic movie free tattoo
epic ticket price