Breeze Sige sa Mantsa Postcards Promo 2013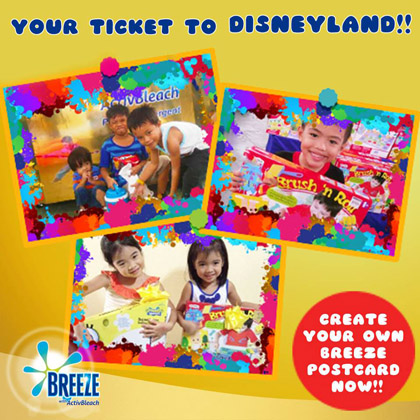 Breeze is giving away tickets to HK Disneyland for 2 to the creative Sige Mom with the best Breeze Sige Sa Mantsa Postcards! The promo runs from September 13 to October 13, 2013. See mechanics below
MECHANICS:
The contest is open to the following:
Mom, Dad and any adult who acts as a guardian at least 18 years old
Must be Filipino citizen, currently residing in the Philippines and
Must be contactable via email, Facebook or mobile phone/landline.
Should have a Facebook user account.
HOW TO JOIN:
Users must "

LIKE

" the

Breeze Facebook fanpage

Once a fan, the user may access the Breeze Sige sa Mantsa! Postcards app
Go to the Breeze Sige sa Mantsa! application tab
Read the mechanics
Fill-up the form with the following details:

a. Name (First Name and Last Name)
b. Complete Postal Address
c. Email Address
d. Contact Number

Complete the Breeze tagline. Sige sa Mantsa, Sige sa ________________. Must be between 3 to 25 characters.
Create a postcard showing us how your kids learn through getting stained and get a chance to win a trip to Hong Kong Disneyland
Upload your photo (File size should not exceed 5mb, jpg, jpeg or png format)
Add a Filter.
Choose a border
 Post your postcard on the Breeze Sige sa Mantsa!Postcard app
Joiners are allowed to submit unlimited number of entries for the entire duration of the promo (September 13 to October 13, 2013, 6:00 pm).
Upon submission, your postcard will be subject to the approval of the administrator. The joiner will be advised regarding the validation of their entry. The administrator orPromoter reserves the right to disqualify and delete any information entered by a participant, which the administrator or Promoter, in its absolute discretion, believes:
(a) is illegal, obscene, offensive or defamatory; or (b) infringes the intellectual property rights of a third party; or (c) is otherwise inappropriate for a promotion designed for mass audience entertainment.
CRITERIA:
Creativity – Unique expression of the photo

(70%)

Brand Choice – This will be based according to the entry's appeal and alignment with Brand values. (30%)
PRIZES:
The entry with the highest score will win the Grand Prize—trip to Hong Kong Disneyland for two (2). Inclusions are as follows:
Round trip Airfare for 2 Via Philippine Airlines, Cebu Pacific or Cathay Pacific
Transfer (Airport/Hotel/Airport)
3 Days 2 Nights hotel accommodation At Guandong (4*) base on twin
Daily Breakfast
Half day City tour
Disneyland tour
Land transfer during tour
Service of tour guide
Plus Five Thousand Pesos (P5,000.00) pocket money and Three Thousand Pesos (P3,000.00) meal allowance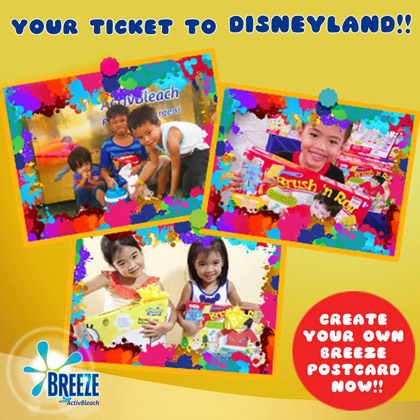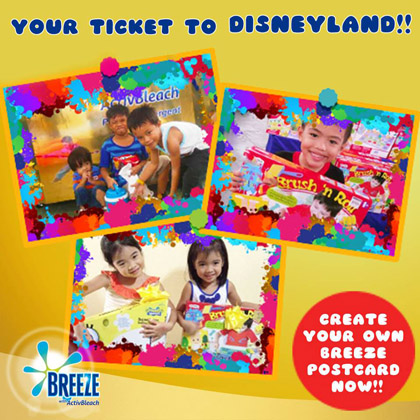 There will be one winner for the entire promo.
Winner will be announced on October 18, 2013.
Per DTI NCR Permit No. 4617 Series of 2013
Promo Duration: September 13 to October 13, 2013
Visit the Breeze Philippines Facebook App for full details and FB page for latest updates.