Kapuso Milyonaryo Todo Pamasko 2013 Mechanics, Drop Boxes and Draw Dates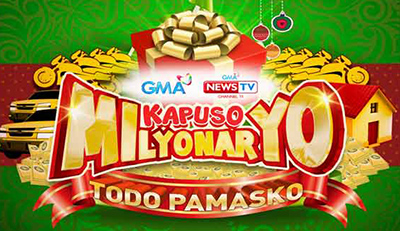 Kapuso Milyonaryo Todo Pamasko is a new promo campaign to sparkle more excitement as the holiday season approaches where GMA-7 Network further ups the ante with biggest prizes and more chances of winning for their loyal viewers. Kapuso Milyonaryo Todo Papremyo has been a huge success in giving away millions worth of prizes where more than 700 winners have won recently and now GMA-7 continues to offer much more surprises to their avid viewers.
Through Kapuso Milyonaryo Todo Pamasko, GMA-7 showcases their wholehearted appreciation to their loyal viewers by giving them the chance to take home its biggest set of tax-free prizes worth over P25 million in partnership with Nescafé 3in1, Milo Chocolate Powdered Drink, Family's Brand Sardines, Smart Prepaid, CDO, Aji-GinisaT Flavor Seasoning Mix, and Energen. Seven lucky winners will have the chance to take home P1 million each from the partner brands, 2 house and lot units from ProFriends, 2 pick-up trucks and 13 motorcycles from Yamaha in the grand draw!
Many more prizes awaits you! To join, check out the mechanics and draw schedules of Kapuso Milyonaryo Todo Pamasko promo:
HOW TO JOIN :
1. Watch out for the Kapuso Milyonaryo Todo Pamasko mechanics and proof of purchase plugs that will start airing on October 16 to know how to join.
2. Write down the following details in a sheet of paper :
Name
Age
Complete Home Address
Contact Number
Affixed Signature
Example 
Name : Annie Garcia
Age : 24
Address : 123 Pagkakaisa St. Kasilawan, Iloilo City
Signature :
3. Secure each entry is enclosed with proof-of-purchase of any of the following partner sponsors listed below
PROOF OF PURCHASE
NESCAFE 3in1
Two (2) empty wrappers of NESCAFE 3in1 of any of the ff. variants:
NESCAFE 3in1 Original
NESCAFE 3in1 Brown N' Creamy
NESCAFE 3in1 Chocolatte
NESCAFE 3in1 Creamy Latte
MILO CHOCOLATE POWDERED DRINK
Two (2) empty packs of Milo 22g or Milo R2 24g, or any combination
FAMILY'S BRAND SARDINES
One (1) label of Family's Brand Sardines of any variant
SMART PREPAID
One (1) entry for every Php15 worth of Smart load
CDO
One (1) can label of CDO Meal loaf or CDO Beef Loaf of any size
AJI-GINISA FLAVOR SEASONING MIX
Six (6) empty packs of 7g Aji-Ginisa Original
ENERGEN
Two (2) empty sachets of Energen Cereal and Energen Go-Fruit or any combination
*Combination of proof-of-purchase from different sponsors is not allowed.
HOW TO SEND YOUR ENTRIES
A. For NESCAFE 3IN1, MILO CHOCOLATE POWDERED DRINK, FAMILY'S BRAND SARDINES, CDO, AJI GINISA, and ENERGEN :
1. Enclosed your entry and proof-of-purchased in a legal-sized envelope and write the following details at the back :
Promo Title
Enclosed Participating Brand
Area of Residency ()NCR, Luzon, Visayas, or Mindanao)
2. Drop your entries with complete details and enclosed with proof-of-purchase in drop boxes located at selected Mercury Drugstore outlets nationwide, GMA TV and Radio stations nationwide or at GMA Network Center, Edsa corner Timog Avenue Quezon City.
B. For SMART PREPAID :
*One-time registration is required; registration is FREE OF CHARGE!
1. Prepaid subscribers must register to Kapuso Milyonaryo by texting the following syntax to 4627 :
Syntax : KM<space>REG<space>Name, Complete Home Address, Area
Example : KM REG Juan Cruz, 1 Maligaya St., Cebu City, Visayas
HOW TO WIN
WEEKLY PRIZES:

12 winners of P7,000 cash prize per week, 3 winners each from NCR, Luzon, Visayas, & Mindanao.
One (1) winner of P100,000 cash prize from ENERGEN
Two (2) winners of smart phones from SMART
One (1) winner of pangkabuhayan package plus P10,000cash prize from FAMILY'S BRAND SARDINES

SURPRISE PRIZES

Three (3) winners of 1 Million cash prize each
Two (2) winners of P100,000 cash prize each from ENERGEN
15 winners of motorcycle from YAMAHA

GRAND DRAW

Two (2) winners of house & lot from PROFRIENDS
Two (2) Grand Prize winners of pick-up truck
Thirteen (13) winners of motorcycle from YAMAHA
Seven (7) winners of 1 Million cash prize each from the sponsors from non-winning entries of weeks from 1 to 8
IMPORTANT DATES
RAFFLE DRAWS (ENTRIES COVERED)
November 7 (October 28-November 3)
November 14 (October 28-November 10)
November 21 (October 28-November 17)
November 28 (October 28-November 24)
December 5 (October 28-December 1)
December 12 (October 28-December 8)
December 19 (October 28-December 15)
December 26 (October 28-December 20)
GRAND DRAW – December 27 (October 28-December 20)
WHERE TO DROP YOUR ENTRIES?
Find the Mercury Drug stores nearest you:
| AREA | PROVINCE/CITY | MDC OUTLETS |
| --- | --- | --- |
| NCR | KALOOKAN | 5td AVENUE |
| NCR | KALOOKAN | 9td AVENUE |
| NCR | KALOOKAN | 11td AVENUE |
| NCR | KALOOKAN | BAGONG SILANG |
| NCR | KALOOKAN | C-3 |
| NCR | KALOOKAN | KALOOKAN PLAZA |
| NCR | KALOOKAN | MONUMENTO |
| NCR | KALOOKAN | MONUMENTO-GEN. SIMON |
| NCR | KALOOKAN | SAMSON |
| NCR | LAS PIÑAS | LAS PIÑAS CITY CASIMIRO |
| NCR | LAS PIÑAS | LAS PIÑAS PERPETUAL |
| NCR | MAKATI | A. P. REYES |
| NCR | MAKATI | AYALA CENTER GLORIETTA 4 |
| NCR | MAKATI | AYALA CENTER GREENBELT 1 |
| NCR | MAKATI | AYALA CENTER MAKATI- GLORIETTA |
| NCR | MAKATI | CASH & CARRY MALL |
| NCR | MAKATI | DE LA ROSA |
| NCR | MAKATI | EDSA GIL PUYAT |
| NCR | MAKATI | EVANGELISTA |
| NCR | MAKATI | GIL PUYAT DIAN |
| NCR | MAKATI | GIL PUYAT URBAN |
| NCR | MAKATI | GUADALUPE P. BURGOS |
| NCR | MAKATI | J.P. RIZAL |
| NCR | MAKATI | JUPITER |
| NCR | MAKATI | MAKATI AVENUE |
| NCR | MAKATI | MAKATI COMEMBO |
| NCR | MAKATI | PASONG TAMO |
| NCR | MAKATI | PEOPLE SUPPORT CENTER |
| NCR | MAKATI | PUREGOLD DELPAN |
| NCR | MAKATI | VITO CRUZ |
| NCR | MAKATI | WALTERMART |
| NCR | MAKATI | ZOBEL ROXAS |
| NCR | MALABON | HULO |
| NCR | MALABON | PLAZA |
| NCR | MALABON | TUGATOG |
| NCR | MANDALUYONG | BONI BARANGKA |
| NCR | MANDALUYONG | EDSA LIBERTAD |
| NCR | MANDALUYONG | EDSA SHANGRI-LA PLAZA |
| NCR | MANDALUYONG | KALENTONG GENERAL |
| NCR | MANDALUYONG | KALENTONG PERSHING |
| NCR | MANDALUYONG | MANUELA EDSA SHAW |
| NCR | MANDALUYONG | ROBINSONS PLACE FORUM |
| NCR | MANDALUYONG | SHAW BLVD. ACACIA LANE |
| NCR | MANDALUYONG | SHAW BLVD. LAUREL |
| NCR | MANILA | ARRANQUE COMMERCIAL CENTER |
| NCR | MANILA | BLUMENTRITT AVENIDA |
| NCR | MANILA | BLUMENTRITT OROQUIETA |
| NCR | MANILA | ERMITA T.M. KALAW |
| NCR | MANILA | ERMITA TAFT PGH |
| NCR | MANILA | ISETANN CINERAMA RECTO |
| NCR | MANILA | MALATE SAN ANDRES |
| NCR | MANILA | MANILA BINONDO ESCOLTA |
| NCR | MANILA | MANILA ERMITA ROBINSON'S PLACE |
| NCR | MANILA | MANILA GAGALANGIN JUAN LUNA |
| NCR | MANILA | MANILA HARRISON PLAZA |
| NCR | MANILA | MANILA SAMPALOC A.H. LACSON |
| NCR | MANILA | PACO PEDRO GIL |
| NCR | MANILA | PANDACAN ZAMORA |
| NCR | MANILA | QUIAPO PLAZA MIRANDA |
| NCR | MANILA | QUIAPO R. HIDALGO |
| NCR | MANILA | SAMPALOC ESPAÑA |
| NCR | MANILA | SAMPALOC M. EARNSHAW |
| NCR | MANILA | SAMPALOC TRABAJO |
| NCR | MANILA | STA. ANA AUGUSTO FRANCISCO |
| NCR | MANILA | STA. ANA PEDRO GIL |
| NCR | MANILA | STA. CRUZ BAMBANG |
| NCR | MANILA | STA. CRUZ CENTRAL MARKET |
| NCR | MANILA | STA. CRUZ PLAZA |
| NCR | MANILA | STA. MESA MART |
| NCR | MANILA | STA. MESA TERESA |
| NCR | MANILA | TONDO JOSE ABAD SANTOS |
| NCR | MANILA | TUTUBAN CENTER TONDO |
| NCR | MARIKINA | BLUE WAVE MARQUINTON 2 |
| NCR | MARIKINA | C & P S'MALL |
| NCR | MARIKINA | CONCEPCION |
| NCR | MARIKINA | DELA PAZ |
| NCR | MARIKINA | PARANG |
| NCR | MARIKINA | SHOE AVENUE |
| NCR | MUNTINLUPA | ALABANG |
| NCR | MUNTINLUPA | ALABANG TOWN CENTER ZAPOTE ROAD |
| NCR | MUNTINLUPA | BAYANAN |
| NCR | MUNTINLUPA | TUNASAN |
| NCR | NAVOTAS | NAVOTAS AGORA |
| NCR | NAVOTAS | NAVOTAS N. NAVAL |
| NCR | PARAÑAQUE | BACLARAN AIRPORT |
| NCR | PARAÑAQUE | BACLARAN QUIRINO |
| NCR | PARAÑAQUE | BF HOMES |
| NCR | PARAÑAQUE | JAKA PLAZA |
| NCR | PARAÑAQUE | LA HUERTA |
| NCR | PARAÑAQUE | MULTINATIONAL |
| NCR | PARAÑAQUE | OLIVES PLAZA PARAÑAQUE |
| NCR | PARAÑAQUE | PUREGOLD SUCAT |
| NCR | PARAÑAQUE | ROBINSONS WOODSVILLE VIVERDE |
| NCR | PARAÑAQUE | SUCAT CANAYNAY |
| NCR | PARAÑAQUE | SUCAT LOPEZ |
| NCR | PARAÑAQUE | UPPER BICUTAN |
| NCR | PASAY | BURGOS |
| NCR | PASAY | EDSA MRT |
| NCR | PASAY | GIL PUYAT F. B. HARRISON |
| NCR | PASAY | LIBERTY COMMERCIAL COMPLEX |
| NCR | PASAY | MALIBAY |
| NCR | PASAY | MALL AND PUBLIC MARKET |
| NCR | PASAY | METRO POINT MALL |
| NCR | PASAY | TAFT AVE. GIL PUYAT |
| NCR | PASAY | TAFT AVE. ROTONDA |
| NCR | PASIG | AMANG RODRIGUEZ AVE. BRGY. DELA PAZ |
| NCR | PASIG | C. RAYMUNDO |
| NCR | PASIG | EVER GOTESCO MALL |
| NCR | PASIG | FRONTERA VERDE FUN RANCH BRANCH |
| NCR | PASIG | MERALCO COMMERCIAL STRIP |
| NCR | PASIG | ROBINSON METRO EAST PASIG |
| NCR | PASIG | SAN JOAQUIN CORNER M. CONCEPCION & ALMEDA |
| NCR | PASIG | URBANO COR. VELASCO ARMAL CENTRE |
| NCR | PATEROS | PATEROS ALMEDA |
| NCR | QUEZON CITY | ANONAS AVENUE CORNER K-10td STREET |
| NCR | QUEZON CITY | ARANETA CENTER ALI MALL |
| NCR | QUEZON CITY | ARANETA CENTER FARMERS MARKET ARCADE |
| NCR | QUEZON CITY | ARANETA CENTER FARMERS PLAZA |
| NCR | QUEZON CITY | ARANETA CENTER GEN. ROMULO |
| NCR | QUEZON CITY | AURORA BLVD. PINATUBO / CUBAO PINATUBO |
| NCR | QUEZON CITY | BROADWAY CENTRUM AURORA BLVD. |
| NCR | QUEZON CITY | CITIMALL DILIMAN |
| NCR | QUEZON CITY | CITYLIFE SQUARE QUEZON AVENUE |
| NCR | QUEZON CITY | COMMONWEALtd TANDANG SORA |
| NCR | QUEZON CITY | CUBAO QUIRINO |
| NCR | QUEZON CITY | CULIAT-TANDANG SORA AVENUE |
| NCR | QUEZON CITY | DEL MONTE FRISCO AVENUE |
| NCR | QUEZON CITY | EDSA BALINTAWAK A. BONIFACIO CORNER 11td AVENUE |
| NCR | QUEZON CITY | EDSA CONGRESSIONAL |
| NCR | QUEZON CITY | EDSA NEPA Q MART |
| NCR | QUEZON CITY | EDSA WEST AVENUE |
| NCR | QUEZON CITY | EVER GOTESCO COMMONWEALtd |
| NCR | QUEZON CITY | FAIRVIEW COMMONWEALtd |
| NCR | QUEZON CITY | KAMUNING SIANGHIO |
| NCR | QUEZON CITY | KATIPUNAN LOYOLA HEIGHTS |
| NCR | QUEZON CITY | MAYON |
| NCR | QUEZON CITY | MAYON N. ROXAS |
| NCR | QUEZON CITY | MURPHY 15td AVENUE |
| NCR | QUEZON CITY | NOVALICHES BAESA |
| NCR | QUEZON CITY | NOVALICHES NOVA SQUARE |
| NCR | QUEZON CITY | NOVALICHES PLAZA |
| NCR | QUEZON CITY | NOVALICHES QUIRINO HIGHWAY COR. LAGRO |
| NCR | QUEZON CITY | NOVALICHES QUIRINO BALINTAWAK |
| NCR | QUEZON CITY | NOVALICHES SAUYO |
| NCR | QUEZON CITY | NOVALICHES STA. QUITERIA |
| NCR | QUEZON CITY | NOVALICHES SUSANO |
| NCR | QUEZON CITY | NOVALICHES TALIPAPA |
| NCR | QUEZON CITY | P. TUAZON 20td AVENUE |
| NCR | QUEZON CITY | PUREGOLD |
| NCR | QUEZON CITY | QUEZON AVE. ROOSEVELT |
| NCR | QUEZON CITY | QUEZON AVE. SCOUT BORROMEO |
| NCR | QUEZON CITY | QUEZON AVE. SCOUT REYES |
| NCR | QUEZON CITY | RETIRO MAYON |
| NCR | QUEZON CITY | ROBINSON'S GALLERIA ORTIGAS |
| NCR | QUEZON CITY | TRINOMA MALL LEVEL M1 |
| NCR | QUEZON CITY | V. LUNA EAST AVE. |
| NCR | QUEZON CITY | WEST AVE. ZAMBOANGA |
| NCR | QUEZON CITY | WALTERMART CENTER NORtd EDSA |
| NCR | RIZAL | ANTIPOLO – MASINAG |
| NCR | RIZAL | ANTIPOLO COGEO-MARCOS HIGHWAY |
| NCR | RIZAL | CAINTA – ORTIGAS ORTIGAS AVE. EXT. |
| NCR | RIZAL | CAINTA PAROLA |
| NCR | RIZAL | CAINTA RUBLOU MARKET PLACE BRANCH |
| NCR | RIZAL | RODRIGUEZ J.P. RIZAL |
| NCR | RIZAL | SAN MATEO – GEN. LUNA |
| NCR | RIZAL | STA. LUCIA MALL CAINTA |
| NCR | RIZAL | TANAY – PLAZA RIZAL |
| NCR | RIZAL | TAYTAY MANILA EAST ROAD |
| NCR | SAN JUAN | GREENHILLS MADISON |
| NCR | SAN JUAN | GREENHILLS SHOPPING CENTER TIANGGE C |
| NCR | SAN JUAN | GREENHILLS WILSON |
| NCR | SAN JUAN | N. DOMINGO |
| NCR | TAGUIG | GLOBAL CITY TAGUIG MARKET MARKET |
| NCR | VALENZUELA | GEN. T. DE LEON |
| NCR | VALENZUELA | KARUHATAN |
| NCR | VALENZUELA | MALANDAY |
| NCR | VALENZUELA | MALINTA |
| NCR | VALENZUELA | MARULAS |
| NCR | VALENZUELA | SOUtd SUPERMARKET |
| NCR | VALENZUELA | VALENZUELA PASO DE BLAS |
| LUZON | ALBAY | B.U. ARCADE DARAGA |
| LUZON | ALBAY | POLANGUI UBALIW |
| LUZON | ALBAY | RIZAL LEGASPI ALBAY |
| LUZON | BAGUIO | ABANAO |
| LUZON | BAGUIO | PORTA VAGA MALL |
| LUZON | BAGUIO | SESSION ROAD |
| LUZON | BATAAN | BALANGA RIZAL |
| LUZON | BATAAN | DINALUPIHAN PUBLIC MARKET |
| LUZON | BATANGAS | BATANGAS CITY RIZAL |
| LUZON | BATANGAS | BAUAN CAPITAL PONSO |
| LUZON | BATANGAS | LEMERY ILUSTRE |
| LUZON | BATANGAS | LIPA CITY BIG BEN COMPLEX |
| LUZON | BATANGAS | NASUGBU J.P LAUREL |
| LUZON | BATANGAS | TANAUAN MABINI |
| LUZON | BATANGAS | TANAUAN PUBLIC MARKET |
| LUZON | BENGUET | LA TRINIDAD KM.5 |
| LUZON | BULACAN | BOCAUE MCARtdUR H-WAY |
| LUZON | BULACAN | MALOLOS PUREGOLD |
| LUZON | BULACAN | MEYCAUAYAN MCARtdUR HIGHWAY |
| LUZON | BULACAN | SAN MIGUEL POBLACION |
| LUZON | BULACAN | STA. MARIA POBLACION |
| LUZON | CAMARINES SUR | NABUA HIGHWAY 1 |
| LUZON | CAMARINES SUR | NAGA CITY GENERAL LUNA |
| LUZON | CAVITE | BACOOR BAHAYAN PAG-ASA |
| LUZON | CAVITE | DASMARINAS PALIPARAN |
| LUZON | CAVITE | GENERAL TRIAS BAGUMBAYAN |
| LUZON | CAVITE | IMUS AGUINALDO H-WAY |
| LUZON | CAVITE | TAGAYTAY AGUINALDO H-WAY |
| LUZON | ILOCOS NORTE | BATAC PUBLIC MARKET |
| LUZON | ILOCOS NORTE | LAOAG J.P. RIZAL |
| LUZON | ILOCOS SUR | CANDON NATIONAL HIGHWAY |
| LUZON | ILOCOS SUR | ILOCOS SUR VIGAN ALCANTARA |
| LUZON | IRIGA | IRIGA J.P. RIZAL |
| LUZON | ISABELA | CAUAYAN PUBLIC MARKET HIGHWAY |
| LUZON | ISABELA | SANTIAGO MAHARLIKA RECTO |
| LUZON | LA UNION | AGOO, P. MARKET, LA UNION |
| LUZON | LA UNION | SAN FERNANDO CITY PUBLIC MARKET |
| LUZON | LA UNION | SAN FERNANDO LA UNION QUEZON |
| LUZON | LAGUNA | BINAN P. PATERNO |
| LUZON | LAGUNA | CABUYAO J.P RIZAL |
| LUZON | LAGUNA | CALAMBA CROSSING |
| LUZON | LAGUNA | PASEO DE SANTA ROSA |
| LUZON | LAGUNA | SAN PABLO BONIFACIO LAGUNA |
| LUZON | LAGUNA | SAN PEDRO PACITA COMPLEX |
| LUZON | MARINDUQUE | MARINDUQUE BOAC GOV. DAMIAN REYES |
| LUZON | MASBATE | ZURBITO |
| LUZON | NUEVA ECIJA | CABANATUAN BURGOS |
| LUZON | NUEVA ECIJA | CABANATUAN M.H. DEL PILAR |
| LUZON | NUEVA ECIJA | GAPAN MAHARLIKA |
| LUZON | NUEVA ECIJA | SAN JOSE CITY MAHARLIKA |
| LUZON | NUEVA VIZCAYA | BAMBANG NATIONAL HIGHWAY |
| LUZON | NUEVA VIZCAYA | POBLACION, NORtd SOLANO, NUEVA VISCAYA |
| LUZON | OCCIDENTAL MINDORO | MAMBURAO J.P. RIZAL |
| LUZON | ORIENTAL MINDORO | CALAPAN RIZAL LEUTERIO |
| LUZON | ORIENTAL MINDORO | ROXAS PUBLIC MARKET |
| LUZON | PALAWAN | PUERTO PRINCESA MALVAR PUBLIC MARKET |
| LUZON | PAMPANGA | ANGELES AUF MCARtdUR |
| LUZON | PAMPANGA | ANGELES RIZAL PUBLIC MARKET |
| LUZON | PAMPANGA | APALIT PUBLIC MARKETC MARKET |
| LUZON | PAMPANGA | GUAGUA PLAZA BURGOS |
| LUZON | PAMPANGA | SAN FERNANDO OLONGAPO GAPAN RD. |
| LUZON | PANGASINAN | ALAMINOS MARCOS AVE |
| LUZON | PANGASINAN | CALASIAO PUBLIC MARKET |
| LUZON | PANGASINAN | DAGUPAN A.B. FERNANDEZ EAST |
| LUZON | PANGASINAN | DAGUPAN ARELLANO BANI |
| LUZON | PANGASINAN | DAGUPAN PEREZ BLVD. |
| LUZON | PANGASINAN | MANGALDAN RIZAL-ADAN |
| LUZON | PANGASINAN | URDANETA CITY NATIONAL HIGHWAY |
| LUZON | PANGASINAN | VILLASIS MCARtdUR HIGHWAY |
| LUZON | PUERTO PRINCESA | PUERTO PRINCESA RIZAL |
| LUZON | QUEZON | QUEZON LUCENA CITY CABANA STREET |
| LUZON | QUEZON | QUEZON SARIAYA GENERAL LUNA |
| LUZON | QUEZON | TAYUG QUEZON |
| LUZON | TARLAC | PANIQUI COMERCIAL ARCADE |
| LUZON | TARLAC | TARLAC JUAN LUNA |
| LUZON | TARLAC | TARLAC SAN RUQUE MCARtdUR HIGHWAY |
| LUZON | TARLAC | TARLAC TANEDO |
| LUZON | ZAMBALES | OLONGAPO RIZAL PUBLIC MARKET |
| LUZON | ZAMBALES | SUBIC |
| VISAYAS | AKLAN | AKLAN KALIBO MABINI |
| VISAYAS | BACOLOD | BACOLOD CITY LACSON |
| VISAYAS | BACOLOD | ROBINSONS PLAZA BACOLOD |
| VISAYAS | BOHOL | TAGBILARAN CP GARCIA BOHOL |
| VISAYAS | BUKIDNON | MALAYBALAY SEBASTIAN |
| VISAYAS | CAPIZ | ROXAS HUGHES |
| VISAYAS | CEBU | AYALA CENTER CEBU |
| VISAYAS | CEBU | CEBU CITY FUENTE |
| VISAYAS | CEBU | CONSOLACION |
| VISAYAS | CEBU | LAPU LUPU DELA CERNA |
| VISAYAS | CEBU | MINGLANILLA POBLACION |
| VISAYAS | ILOILO | GENERAL LUNA QUEZON |
| VISAYAS | ILOILO | IZNART |
| VISAYAS | ILOILO | JARO |
| VISAYAS | ILOILO | VALERIA |
| VISAYAS | LEYTE | ORMOC CITY REAL |
| VISAYAS | LEYTE | TACLOBAN CITY RIZAL |
| VISAYAS | NEGROS OCCIDENTAL | KABANKALAN GUANZON |
| VISAYAS | NEGROS ORIENTAL | DUMAGUETE COLON |
| VISAYAS | NORtdERN SAMAR | CATARMAN JACINTO |
| VISAYAS | WESTERN SAMAR | CATBALOGAN ALLEN |
| MINDANAO | AGUSAN DEL NORTE | BUTUAN AD CURATO ST. |
| MINDANAO | AGUSAN DEL NORTE | BUTUAN LOPEZ JAENA CORNER MONTILLA |
| MINDANAO | DAVAO DEL NORTE | PANABO NATIONAL HIGHWAY |
| MINDANAO | DAVAO DEL NORTE | TAGUM NATIONAL HIGHWAY |
| MINDANAO | DAVAO DEL SUR | BAJADA |
| MINDANAO | DAVAO DEL SUR | BUHANGIN |
| MINDANAO | DAVAO DEL SUR | C.M. RECTO |
| MINDANAO | DAVAO DEL SUR | MATINA |
| MINDANAO | LANAO DEL NORTE | ILIGAN TIBANGA NATIONAL HIGHWAY |
| MINDANAO | MISAMIS OCCIDENTAL | OZAMIS RIZAL |
| MINDANAO | MISAMIS ORIENTAL | CAGAYAN DE ORO CITY GUSA |
| MINDANAO | MISAMIS ORIENTAL | CAGAYAN DE ORO CITY LIMKETKAI MALL |
| MINDANAO | MISAMIS ORIENTAL | CAGAYAN T. NERI |
| MINDANAO | SOUtd COTABATO | GENERAL SANTOS ACHARON |
| MINDANAO | SOUtd COTABATO | GENERAL SANTOS CITY LAGAO |
| MINDANAO | SURIGAO DEL SUR | TANDAG NATIONAL ROAD |
| MINDANAO | ZAMBOANGA DEL NORTE | DIPOLOG CITY RIZAL AVENUE |
| MINDANAO | ZAMBOANGA DEL NORTE | SINDANGAN QUEZON |
| MINDANAO | ZAMBOANGA DEL SUR | PAGADIAN PAJARES |
| MINDANAO | ZAMBOANGA DEL SUR | STA. MARIA |
Find the GMA Network Stations nearest you:
STATIONS
GMA NETWORK CENTER
GMA CH. 7 BACOLOD
GMA AM/FM BACOLOD
GMA FM BAGUIO
GMA CH.7 & FM BICOL COMPLEX
GMA CH. 12 CAGAYAN DE ORO
GMA FM CAGAYAN DE ORO
GMA CH. 7 & AM/FM CEBU
GMA CH. 10 & FM DAGUPAN
GMA CH. 5 & AM/FM DAVAO
GMA CH. 8 GENERAL SANTOS
GMA FM GENERAL SANTOS
GMA CH.5 ILOCOS
GMA CH. 6 & AM/FM ILOILO
GMA FM KALIBO
GMA FM LEGASPI
GMA FM LUCENA
GMA AM/FM PUERTO PRINCESA
GMA FM TUGUEGARAO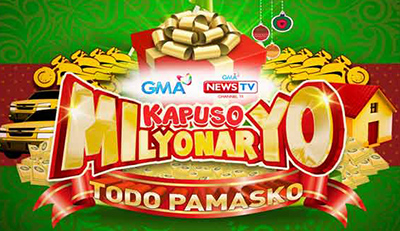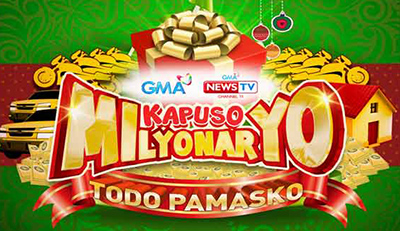 For further details, you may call GMA-7 promo hotline at 922-7372 for Metro Manila or 1800-10-922-7372 for outside Metro Manila or visit GMA-7 Network's Kapuso Milyonaryo Todo Pamasko official website for full details and latest updates. As Per DTI-NCR PERMIT NO. 8505 Series of 2013