Heliocare and NeoStrata Show the World Your Beauty Raffle Promo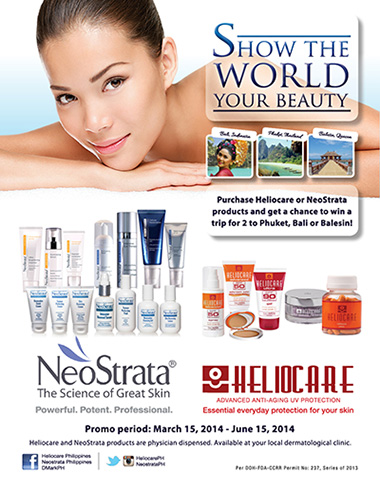 Heliocare Sunscreen and NeoStrata Skincare team up this summer to bring you to the best travel destinations in the world! Join the Heliocare and NeoStrata Show the World Your Beauty Raffle Promo and get a chance to win a trip for 2 to Phuket, Thailand, Bali Indonesia, or Balesin Quezon. All you have to do is visit your trusted local dermatological clinic and purchase any Heliocare or NeoStrata product for your skin. Promo period is from March 15, 2014 until June 15, 2014.
Heliocare is the first global photoprotection line against damage caused by the harmful effects of the sun. With several topical presentations and an exclusive oral photoprotectant, it prevents the signs of photoaging on a daily basis, protecting all skin types. The Heliocare line has a wide range of products for topical use, combining physical chemical and phytobiological filters giving maximum coverage against harmful ultraviolet rays (UVB and UVA).
Neostrata is scientifically advanced, clinically proven skincare regimen to visibly resurface, restore and refine skin. Neostrata has been proven effective across a wide variety of skin types and skin conditions. The advanced therapeutic and cosmetic dermatological products feature unsurpassed Polyhydroxy Acid and Alpha Hydroxy Acids technology to meet the needs of every skin type.
All Heliocare and NeoStrata products are physician dispensed. To know more about the promo, see posters and flyers for details. Get instant updates by following @HeliocarePH and @NeoStrataPH on instagram and twitter.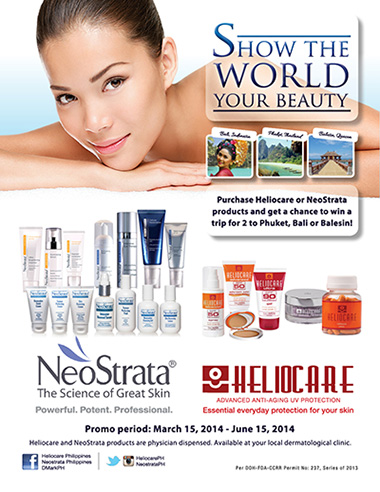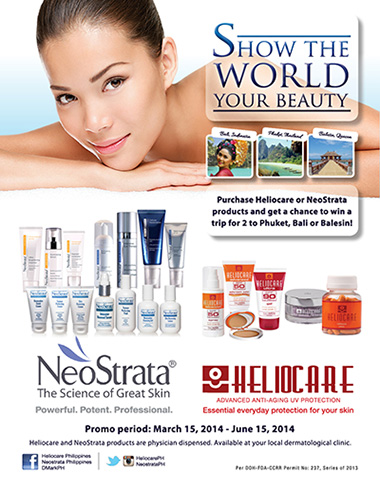 You can also check our UnliPromo FB Page (fb.com/unlipromo) for the latest feeds and more exciting offers.