The Big Brand Sale 2015 back to back with The Great Outdoors Sale 2015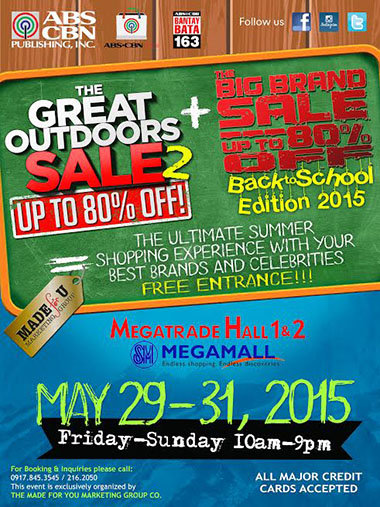 It's that time again for this year's most awaited sale event!
The Made for You Marketing Group will once again hold its BIG BRAND SALE 2015 at the SM Megatrade Hall 1 & 2 on May 29-31, 2015. To make things more exciting, the event will be held back to back with THE GREAT OUTDOORS SALE 2015 at the same venue.
Your favorite international and local brands are back on sale featuring the widest variety of products at up to 80% off on their tag price. Men's and Women's apparel, Bags, Shoes, Electronics, cosmetics, accessories plus a lot more brands including outdoor brands are participating.
With the heavy volume of shoppers expected at the SM Megamall during this payday weekend, it is the best time to shop and drop by the Megatrade Hall while doing some back to school shopping for the school opening. And with the change schedule for some of the major universities, the post summer sale will be an awesome time for midyear vacationers to grab their vacation gears at end of season prices.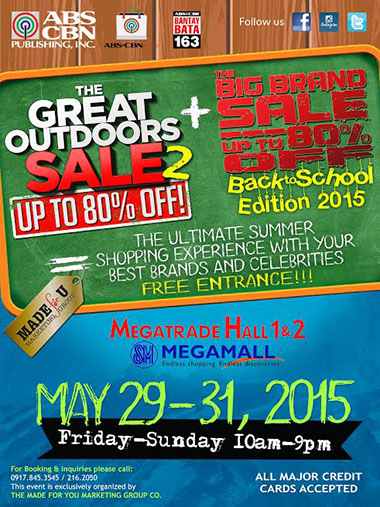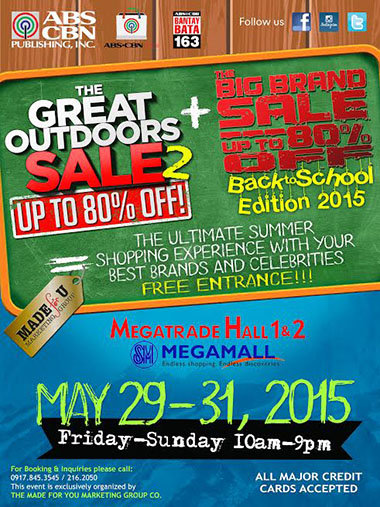 All Major Credit Card Accepted
For booking and inquiries, please call 09178453545 or 216-2050. You may also visit Made for You Marketing Group and UnliPromo Facebook Page for more details and latest updates.