LG Good Match Game – Win LG Smart TV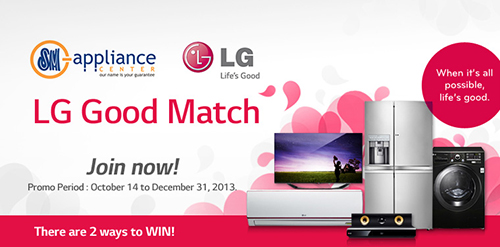 Join the new LG Good Match Game! Be a top scorer and win P3,000 discount coupon weekly! Plus get a chance to win an LG 42″ Smart TV in our Lucky Pocket Draw! Promo runs from October 14 to December 31, 2013
WHO CAN JOIN:
The promo is open to all Facebook users in the Philippines who "Like" the SM Appliance Facebook fan page.
HOW TO JOIN:
User needs to "Like" the

SM Appliance

FB fan page so he/she can access SM Appliance &LG Electronics Philippines Facebook Game App. After liking the page

Fill in the Registration Page with the following information:

Name
Email Address
Telephone / Mobile Number
Preferred SM Appliance Store if in case the player wins the discount coupon (See Annex A: List of Participating SM Appliance Branches)

After registration, users will be directed to a page where they can play the SM Appliance & LG Electronics Philippines' Facebook Game App.
After playing the game, the user will see his/her final score. The Game result will show if the player qualifies for the Top
Scorer for the week,in order to get the Discount Coupon.

The Facebook users can only play 10 times per day. If they aren't still part of the top scorer for the week and consumed the 10 game chances for the day, theycan still to retry the game, they should wait for the next day to play again.
For players who have won in the previous week, they will automatically be part of the Game's Hall of Fame, therefore, they cannot play the game anymore.
If they become part of the Top Scorers, they can win Php 3,000 worth of Discount Coupon, which they can use when they buy any LG Product available in SM Appliance Stores included in the
promo.
All Facebook users who will join the Facebook game , will earn one (1) raffle entry, to get a chance to win an LG Smart TV, model 42LA6910.
Weekly cut off for players, Announcement of Winners and Schedule of Discount Coupon distribution are as follows:

CUT-OFF FOR TOP PLAYERS WILL BE ON THE FOLLOWING DATES
[Every SUNDAYS]
DETERMINATION OF TOP PLAYERS WILL BE ON THE FOLLOWING DATES
[Every MONDAYS]
ANNOUNCEMENT OF WINNERS & DISCOUNT COUPON DISTRIBUTION VIA EMAIL
[Every TUESDAYS]
No. of WINNERS
October 20,2013 11:59PM
October 21,2013 4PM
October 22,2013
15
October 27,2013 11:59PM
October 28,2013 4PM
October 29,2013
10
November 3,2013 11:59PM
November 4,2013 4PM
November 5,2013
10
November 10,2013 11:59PM
November 11,2013 4PM
November 12,2013
8
November 17,2013 11:59PM
November 18,2013 4PM
November 19,2013
8
November 24,2013 11:59PM
November 25,2013 4PM
November 26,2013
8
December 1,2013 11:59PM
December 2,2013 4PM
December 3,2013
8
December 8,2013 11:59PM
December 9,2013 4PM
December 10,2013
8
December 15,2013 11:59PM
December 16,2013 4PM
December 17, 2013
8
December 22,2013 11:59PM
December 23,2013 4PM
December 24, 2013
8
December 29,2013 11:59PM
December 30,2013 4PM
December 30, 2013
8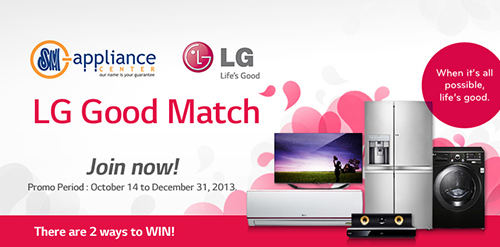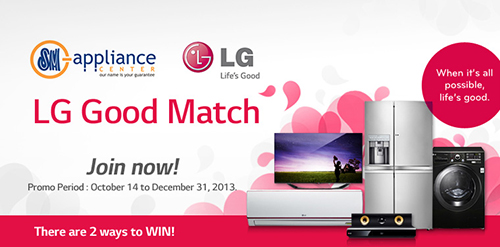 Visit SM Appliance LG Good Match Facebook Apps and SM Appliance Facebook page for more details.